THE BIG RED BUS DEBATE
20th October 1988
Page 60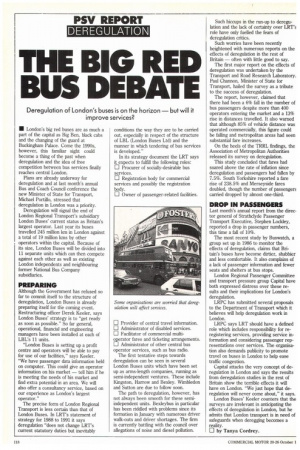 Page 60, 20th October 1988 —
THE BIG RED BUS DEBATE
Close
Keywords :
Bus Transport In The United Kingdom
,
Transport In Glasgow
,
Administrative Law
,
Deregulation
,
Macroeconomics
,
Buses In London
,
Strathclyde Partnership For Transport
,
Passenger Transport Executive
,
London Buses
,
Bus Deregulation In Great Britain
,
Leyland Olympian
Deregulation of London's buses is on the horizon — but will it improve services?
• London's big red buses are as much a part of the capital as Big Ben, black cabs and the changing of the guard at Buckingham Palace. Come the 1990s, however, this familiar sight could become a thing of the past when deregulation and the idea of free competition between bus services finally reaches central London.
Plans are already underway for deregulation and at last month's annual Bus and Coach Council conference the new Minister of State for Transport, Michael Portal°, stressed that deregulation in London was a priority.
Deregulation will signal the end of London Regional Transport's subsidiary London Buses' current status as Britain's largest operator. Last year its buses travelled 245 million km in London against a total of 19 million krns by other operators within the capital. Because of its size, London Buses will be divided into 11 separate units which can then compete against each other as well as existing London independents and neighbouring former National Bus Company subsidiaries.
PREPARING
Although the Government has refused so far to commit itself to the structure of deregulation, London Buses is already preparing itself for the coming event. Restructuring officer Derek Keeler, says London Buses' strategy is to "get ready as soon as possible." So far general, operational, financial and engineering managers have been installed at each of LBL's 11 units.
"London Buses is setting up a profit centre and operators will be able to pay for use of our facilities," says Keeler. "We have passenger data information held on computer. This could give an operator information on his market — tell him if he is meeting the needs of his market and find extra potential in an area. We will also offer a consultancy service, based on our experience as London's largest operator."
The precise form of London Regional Transport is less certain than that of London Buses. In LRT's statement of strategy for 1988 to 1991 it says deregulation "does not change LRT's current statutory duties but inevitably conditions the way they are to be carried out, especially in respect of the structure of LBL (London Buses Ltd) and the manner in which tendering of bus services is developed."
In its strategy document the LRT says it expects to fulfill the following roles: O Procurer of socially-desirable bus services.
O Registration body for commercial services and possibly the registration body.
0 Owner of passenger-related facilities.
O Provider of central travel information. • Administrator of disabled services.
O Facilitator of commercial multioperator fares and ticketing arrangements.
O Administrator of other central bus operator services, such as bus radio.
The first tentative steps towards deregulation can be seen in several London Buses units which have been set up as arms-length companies, running as semi-independent ventures. These include Kingston, Harrow and Bexley. Wimbledon and Sutton are due to follow soon.
The path to deregulation, however, has not always been smooth for these semiindependent units. Bexleybus in particular has been riddled with problems since its formation in January with numerous driver walk-outs and driver shortages, The firm is currently battling with the council over allegations of noise and diesel pollution. Such hiccups in the run-up to deregulation and the lack of certainty over LRT's role have only fuelled the fears of deregulation critics.
Such worries have been recently heightened with numerous reports on the effects of deregulation in the rest of Britain — often with little good to say.
The first major report on the effects of deregulation was undertaken by the Transport and Road Research Laboratory. Paul Channon, Minister of State for Transport, hailed the survey as a tribute to the success of deregulation.
The report, however, claimed that there had been a 6% fall in the number of bus passengers despite more than 400 operators entering the market and a 13% rise in distances travelled. It also warned that although 85% of vehicle distance was operated commercially, this figure could be falling and metropolitan areas had seen substantial fare increases.
On the heels of the TRRL findings, the Association of Metropolitan Authorities released its survey on deregulation.
This study concluded that fares had soared above the rate of inflation since deregulation and passengers had fallen by 7.5%. South Yorkshire reported a fare rise of 238.5% and Merseyside fares doubled, though the number of passengers carried dropped by almost one-third.
DROP IN PASSENGERS
Last month's annual report from the director general of Strathclyde Passenger Transport Executive, Stephen Locldey, reported a drop in passenger numbers, this time a fall of 10%.
The most recent study by Buswatch, a group set up in 1986 to monitor the effects of deregulation, claims that Britain's buses have become dirtier, shabbier and less comfortable. It also complains of a lack of passenger information and fewer seats and shelters at bus stops.
London Regional Passenger Committee and transport pressure group Capital have both expressed distress over these results and their implications for London's deregulation.
LRPC has submitted several proposals to the Department of Transport which it believes will help deregulation work in London.
LRPC says LRT should have a defined role which includes responsibility for reregistering services, providing service information and considering passenger representations over services. The organisation also demands publicity to promote travel on buses in London to help ease traffic congestion.
Capital attacks the very concept of deregulation in London and says the results from deregulation studies in the rest of Britain show the terrible effects it will have on London. "We just hope that deregulation will never come about," it says.
London Buses' Keeler counters that the surveys are irrelevant in anticipating the effects of deregulation in London, but he admits that London transport is in need of safeguards when deregging becomes a reality. 0 by Tanya Cordrey.