A NEW APPARATUS FOR THE PURIFICATION OF OIL.
20th October 1925
Page 8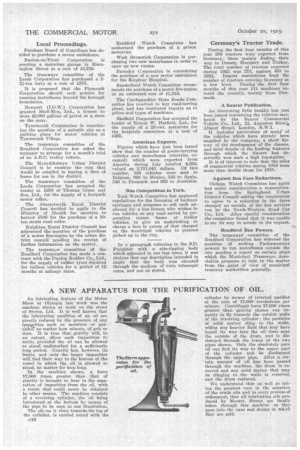 Page 8, 20th October 1925 —
A NEW APPARATUS FOR THE PURIFICATION OF OIL.
Close
An interesting feature of the Motor Show at Olympia last week was the machine shown at work on the stand of Sterns, Ltd. It is well known that the lubricating qualities of an oil are greatly reduced by the presence of any impurities such as moisture or particle-C no matter how minute, of grit or dust. It is true that gravity will, to an extent, allow such impurities to settle, provided the oil can be allowed to stand undisturbed for a sufficiently long period. Gravity has, however, its limits, and only the larger impurities will find their way to the bottom of the vessel in which the oil is. allowed to stand, no matter for how long.
In the machine shown, a force 17,000 times greater than that of gravity is brought to bear in the separation of impurities from the oil, with a result that could never he obtained by other means. The machine consists of a revolving ,cylinder, the oil being introduced at the bottom by means of the pipe to be seen in our illustration.
The oil,-as it rises towards the top of the cylinder, is carried round with the c16 cylinder by means of internal paddles at the rate of 17,000 revolutions per minute. Centrifugal force 17,000 times greater than gravity causes any impurity to fly towards the outside walls of the revolving cylinder ; the particles of solid matter cling to the walls, whilst any heavier fluid that may have found its way into the oil rises near the outside of the drum, and is discharged through the lower of the two pipes shown. Only the absolutely pure oil can find its way to the upper part of the cylinder and be discharged through the upper pipe. After a certain amount of oil has been passed through the machine, the drum is removed and any solid matter that may be clinging to the walls is removed, and the drum replaced.
We understand that as well as taking the greatest care in the selection of the crude oils and in every process of refinement, that all lubricating oils produced by Messrs. Sterns are finally taken through this machine as they pass into the cans and drums in which they are sold.