Massive ME link-up
20th May 1977
Page 22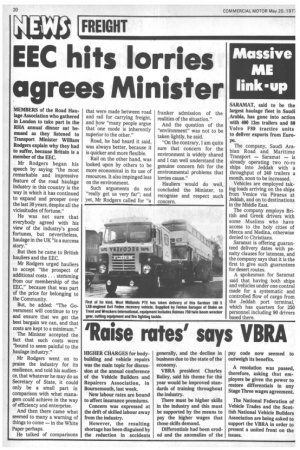 Page 22, 20th May 1977 —
Massive ME link-up
Close
SARAMAT, said to be the largest haulage fleet in Saudi Arabia, has gone into action with 400 12m trailers and 80 Volvo F89 tractice units to deliver exports from Europe.
The company, Saudi Arabian Road and Maritime Transport — Saramat — is already operating two ro-ro ships into Jeddah with a throughput of 240 trailers a month, soon to be increased.
Vehicles are employed taking loads arriving on the ships from Venice via Piraeus at Jeddah, and on to destinations in the Middle East.
The company employs British and Greek drivers with some Muslims who have access to the holy cities of Mecca and Medina, otherwise denied to Christians.
Saramat is offering guaranteed delivery dates with penalty clauses for lateness, and the company says that it is the first to give such guarantees for desert routes.
A spokesman for Saramat said that having both ships and vehicles under one control made for a systematic and controlled flow of cargo from the Jeddah port terminal, which has quarters for 250 personnel including 90 drivers based there.