ONE HEARS
20th March 1928
Page 41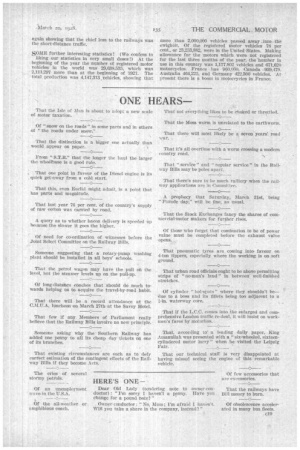 Page 41, 20th March 1928 —
ONE HEARS
Close
That the Isle of Man is about to adopt a new scale of motor taxation.
Of ".snow on the roads" in some parts and in others of"the roads under mom" That the distinction is a bigger one actually than would appear on paper.
From " S.T.R." that the longer the haul the larger the wheelbase is a good rule.
That one point in favour of the Diesel engine is its . quick get-away from a cold start.
That this, even Euclid might admit, is a point that has parts and magnitude.
That last year 76 per cent, of the country's supply of raw cotton was carried by road.
A query as to whether bacon delivery is speeded up because the slower it goes the higher.
Of need for co-ordination of witnesses before the Joint Select Committee on the Railway Bills.
Someone suggesting that a rotary-pump washing plant should be installed in all boys' schools.
That the petrol wagon may have the pull oh the level, but the steamer levels up on the pull-up.
Of long-distance coaches that should do much towards helping us to acqnire the travel-by-road habit.
That there will be a record attendance at the C.M.T.T.A. luncheon on March 27th at the Savoy Hotel.
That few if any Members of Parliament really believe that the Railway Bills involve no new principle.'
Someone asking why theSouthern Railway has added One penny to all its cheap day tickets on one of its branches.
That existing circumstances are such as to defy correct estimation of the contingent effects of the Rail, way Bills if they become Acts.
Of an unemployment wave in the Of the all-weather or amphibious coach. That not everything likes to be choked or throttled. That the Moss worm is unrelated to the earthworm.
That there will Most likely be a seven years' road war. . .
That overtime with a worm crossing a modern country road.
That " Merviee " and " regular service" in the Railway Bills may be poles apart.
That there's sure to be much raillery when the railway applications are in Committee.
A prophecy that Saturday, March 31st, 'being "Parade day," will be fine, as usual.
That the Stock Exchanges fancy the shares of commercial-motor makers for further rises.
Of those who forget that combustion to be of power value must be completed before the exhaust valve opens.
That pneumatic tyres are coming into favour on 4-ton tippers, especially where the working is on soft ground.
That urban road officials Might to be above permitting strips of "no-man's land" in between well-finished stretches.
Of cylinder "hot-spots" Where they shouldn't be— due to a boss and its fillets being too adjacent to a waterway core.
That if the L.C.C. comes into the enlarged and comprehensive London traffic re-deal, it will insist on workmen's fares by moiorims..
That, according to' a leading daily paper, King Aumnullah was presented with a "six-wheeled, sixteencylindered motor lorry" when he visited the Leipzig Fair.
That our technical staff is very disappointed at having missed seeing the engine of this remarkable -vehicle.
Of few accessories that are exeessories.
That the railways have Bill money to burn.
Of obsolescence accelerated in many bus fleets.