S DC. foreign makes will be included among the 39 vehicle
20th July 1956
Page 36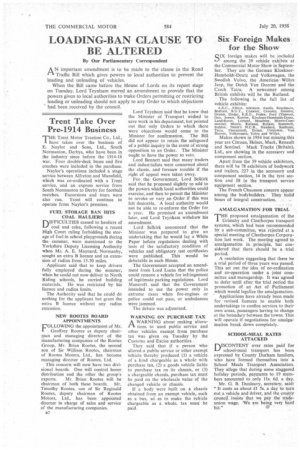 Page 36, 20th July 1956 —
S DC. foreign makes will be included among the 39 vehicle
Close
exhibits at the Commercial Motor Show in September. They are the German KlockncrHumboldt-Deutz and Volkswagen, the Swedish Volvo, the American Willys Jeep, the Dutch Van Doorne and the Czech Tatra. A newcomer among British exhibits will be the Rutland.
The following is the full list . of vehicle exhibits:
A.E.C., Albion, Atkinson, Austin, Beardmore. Bedford, BUT., Comm, CrOSSICY, Daintier. Dennis, Dodge, E.R.F., Foden, Ford (Thames), Guy, Jensen, Korner, Klockner-Humbuldt-Deutz. Land-Royer, Leyland, Maudslay, Morris-Commercial, Morris, Rutland, Reliant, Scammell, Seddon, Smith's NT.C.B., Standard. Sunbeam. Tatra, rhornyeroft, Trolan, Uninower, Van Doorne, Volkswagen, Volvo and Willys.
Makes shown in 1954 but missing this year are Citroen, Helecs, Mack, Renault and Sentinel. Mack Trucks (Britain), Ltd., are showing in the accessory and component section.
Apart from the 39 vehicle exhibitors, there will be 78 exhibitors of bodywork and trailers, 227 in the accessory and component section, 14 in the tyre section and 58 in the transport service equipment section.
The French Chausson concern appear among the bodybuilders. They build buses of integral construction.
AMALGAMATION FOR TRIAL
THE proposed amalgamation of the Grimsby and Cieethorpes transport systems, which had been recommended by a sub-committee, was rejected at a special meeting of Cleethorpes Corporation last week. The meeting agreed to amalgamation in principle, but considered that there should be a trial period.
A resolution suggesting that there be a trial period of three years was passel This set out the idea of co-ordination and co-operation under a joint committee and managership. It was agreed to defer until after the trial period the promotion of an Act of Parliament which would legalize the amalgamation.
Applications have already been made for revised licences to enable both undertakings to confine services to their own areas, passengers having to change at the boundary between the towns. This will operate if negotiations for amalgamation break down completely.
SCHOOL-MEAL RATES ATTACKED
DISCONTENT over rates paid for school-meal transport has been expressed by County Durham hauliers, who have formed themselves into a School Meals Transport Association. They allege that during some staggered holiday periods, payments to 19 members amounted to only I Is. 6d. a day.
Mr. G. B. Dunleavy, secretary, said: "It costs us about Et 5s. a day to turn out a vehicle and driver, and the county Council insists that we pay the tradeunion wage. 'We are tieing very hard hit."