Big Plans Back Bodybuilding Enterprise
20th January 1939
Page 47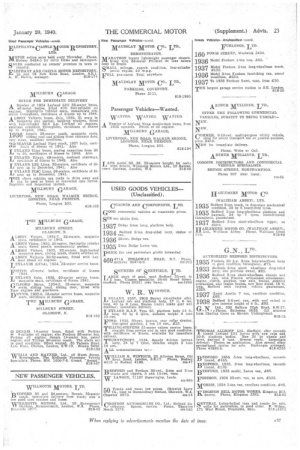 Page 47, 20th January 1939 —
Big Plans Back Bodybuilding Enterprise
Close
Brush Concern Creates Subsidiary to Deal Exclusively withPassenger Bodywork of Composite and All-metal Types THE building of rolling stock was started by the Brush Electrical Engineering Co., Ltd., so long ago as 1889. It has constructed horsed buses, trams, railway wagons and, curiously enough, trolleybuses,the first of the last named being produced
in 1910. Another pioneering effort was an all-steel bus body exhibited at the first Commercial Motor Show, held at Olympia-in 1907.
All this experience, and the latest methods of design and construction in the building of the famous Brush
patented all-metal body, also bodywork of composite construction, will be at the service of a new subsidiary corn: pany to be known as Brush Coachwork, Ltd., with works and offices in extensive buildings adjoining the great Brush. works.
Extensive reorganisation and an extension of the buildings are taking place, and it is intended to institute a worldWide drive to regain lost export markets. The new company will have the advantages of the establiShed agencies of the Petter Sales organization in almost every part of the world, and sales literature is being prepared in 20 languages.
A few days ago we visited the bodybuilding shops and we were amazed at the progress which has already been made. It must, of dourse, be remem, bered that hundreds of double-deck and saloon vehicles pass through the works annually. We saw under construction many bodies of various designs to meet the requirements of operating companies and munici. palities. For tropical countries the main need is for all-metal body construction, and the company's products should be particularly suitable for work in such circumstances. The components are all built to jig to ensure interchangeability of light parts.
Hitherto, the Brush concern has catered almost exclusively for the large operator. Now, however, it intends it) satisfy the demands of the owner running only a few vehicles, and it believes that there is a large market for a body of standard main dimensions differing only in detail equipment. With such a type it should be possible considerably to reduce the cost.
Mr. Hickman, previously manager of the rolling-stock department, has become general manager of the new company.