Passing Comments
20th January 1939
Page 20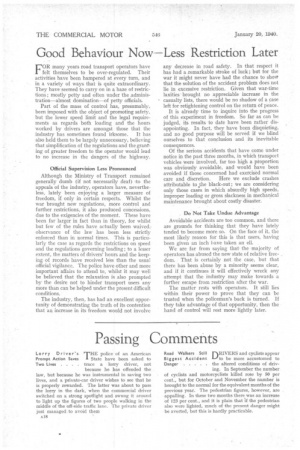 Page 21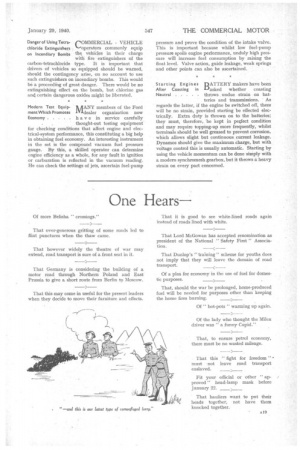 Page 20, 20th January 1939 —
Passing Comments
Close
Efforts to Promote ROGRESS made in the Industry in Depressed I industrial development of
Areas the Special (Distressed) Areas in England and Wales may call for increased haulage facilities, and it is interesting to learn what has been done in this direction. Up to October 1, offers of contributions towards rent, rates and income tax had been made to 66 industrial undertakings to induce them to set up factories in these areas. On the Team Valley Trading Estate, 84 factories had been completed to this date and the majority is in production, whilst tenants had been obtained for 47 additional works. Others are ready or under construction at Pallion, St. Helen's, Auckland. and Tynemouth. On the South Wales Trading Estate at Treforest, 27 had been completed, and a further 20 were under construction. Two have been built at Maryport, one is being built at Milloin, and successful efforts are being made at Cleator Mill, Whitehaven, etc. The Commissioner's commitments, so far, are approximately £17,000,000.
n
Dual combustion co now we have engines Engines are All the °.--/which employ internal-and Rage I external combustion! This occurred to a member of the staff the other day, when pondering (not too seriously) on the birth and rapid adolescence of
producer-gas power units. Others, with all the intellect and technicality at their command, may say, of coupe, that the external combustion is merely auxiliary, or is not combustion within the meaning of the term when applied to power generation. They would say, perhaps, that the heat from this primary combustion is not turned to good account in power production, and is equivalent to heat used at Kole stage in the refinement of liquid fuel. If one is to carry that theory to its natural conclusion, the external combustion in the producer-gas engine is equivalent to the heating process provided by the Earth's centre, to give u5 so many of our worldly resources Anyway, we like the idea of an I.C.-E.C. engine.
Great Britain the RETWEEN them the British Largest Producer of .1-)ta.r interests handle
Tar 35,000,000 tons of coal a year, produce some 400,000,000 gallons of crude tar, and employ no fewer than 200,000 workers, In fact, the output of road tar is double that of the largest other European producer, and could be considerably increased if necessary. A tremendous amount, is, of course, used in road-construction and maintenance work.
VVHAT should prove to be a VV book of considerable value to those interested in welding is to be published soon by the James F. Lincoln Arc Welding Foundation, Cleveland, Ohio. It will include 109 of the more important papers submitted in the recent 50,000 prize contest organized by that concern. They contain designs and
A Book of Great Value. to Welding
Engineers
explanations regarding the efficient use of arc welding in many classes of work, and it is notable that of the 10 sections the first deals with the design and manufacture of buses, lorries, trailers and typical parts of such vehicles. The price will be 'approximately 8s., including postage.
Two Characteristics TRAMS have speed, but no
Essential for Fast freedom of movement.
Traffic Flow . . . Horsed vehicles have freedom of movement, but no speed. For modern traffic conditions both characteristics are necessary, yet, whilst trams are being replaced on every hand by trolleybuses and buses, little is done to rid our towns of crawling queues of carts. At high cost a measure is adopted for the sake of economy, and then its operation is fettered so that much of its effectiveness is lost.