Fuel credit terms stiffened
20th February 2003
Page 12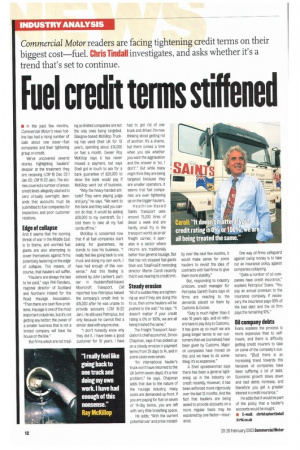 Page 12, 20th February 2003 —
Fuel credit terms stiffened
Close
Commercial Motor readers are facing tightening credit terms on their biggest cost—fuel. Chris Tindall investigates, and asks whether it's a trend that's set to continue.
• In the past few months, Commercial Motor's news hotline has had a rising number of calls about one issue—fuel companies and their tightening grasp on credit.
We've uncovered several stories highlighting hauliers' despair at the treatment they are receiving (CM 19 Dec 02-1 Jan 03: CM16-22 Jan). The stories covered a number of areas: credit limits allegedly slashed to zero virtually overnight: demands that accounts must be submitted to fuel companies for inspection; and poor customer relations.
Edge of collapse
And it seems that the looming threat of war in the Middle East is to blame, and worried fuel giants are also attempting to cover themselves against firms potentially teetering on the edge of collapse. This means, of course, that hauliers will suffer.
"Hauliers are always the last to be paid," says Phil Flanders, regional director of Scotland and Northern Ireland for the Road Haulage Association. "Then there are cash flow problems. Haulage is one of the most important industries, but it's not getting any better; the owner of a smaller business that is not a limited company will have his house on the line."
But firms which are not trad
ing as limited companies are not the only ones being targeted. Glasgow-based McKillop Trucking has used Shell UK for 13 years, spending about £14,000 on fuel a month. Owner Roy McKillop says it has never missed a payment, but says Shell got in touch to ask for a bank guarantee of £28,000 to show the bank would pay if McKillop went out of business.
"Why the heavy-handed attitudeP They were playing judge and jury," he says. We went to the bank and they said you cannot do that. It would be adding £28,000 to my overdraft. So I told them to take all my fuel cards off me."
McKillop is concerned now that if all fuel companies start asking for guarantees, he stands to lose his business. "I really feel like going back to one truck and doing my own work. I have had enough of this nonsense." And this feeling is echoed by John Lambert, partner in Huddersfield-based Moorcroft Transport. CM reported how Petroplus halved the company's credit limit to £15,000 after he was unable to provide accounts (CM 16-22 Jan). He still uses Petroplus, but only because he cannot find a similar deal with anyone else.
"I don't honestly know why they did it. I have been a good customer for 10 years. I have had to get rid of one truck and driver; I'm now thinking about getting rid of another. It's a shame, but there comes a time when you ask whether you want the aggravation and the answer is 'no, I don't'." But while many might think they are being targeted because they are smaller operators, it seems that fuel companies are even tightening up on the bigger hauliers.
Heathrow-based Saints Transport uses around 75,000 litres of diesel a week and are hardly small fry in the transport world; as an air freight carrier, it operates in a sector where returns are traditionally better than neral haulage. But that has not stopped fuel giants Shell and TotalFinaElf reminding director Martin Caroll recently that it was nearing its credit limit.
Steady erosion
"All of a sudden they are tightening up and if they are doing this to us, then some hauliers will be pushed to the wall," he says. "It doesn't matter if your credit rating is 0% or 100%, we are all being treated the same."
The Freight Transport Association's chief economist, Simon Chapman, says it has picked up on a steady erosion in payment terms from 28 days to 14, and in some cases even seven.
"An international haulier's truck won't have returned to the UK [within seven days); it's a real problem," he says. Chapman adds that due to the nature of the haulage industry, many costs are demanded up front. If you are paying for fuel on seven or 14-day terms, you are left with very lithe breathing space.
He adds: "With the current potential war and price instabil
ity over the next few months, it would make sense for some hauliers to revisit the idea of contracts with fuel firms to give them more stability."
But, responding to industry criticism, credit manager for Petroplus Gareth Evans says oil firms are reacting to the demands placed on them by Customs & Excise.
"Duty is much higher than it was 10 years ago, and oil refiners have to pay duty to Customs. It has gone up so much we are giving longer terms to our customers than we ;ourselves] have been given by Customs. Major oil companies have moved on this and we have to do something; it's so expensive."
A Shell spokeswoman says there has been a general tightening up in the industry on credit recently. However, it has been enforced more rigorously over the last 12 months. And the fact that hauliers are being asked to provide accounts on a more regular basis may be explained by one factor—insurance. One way oil firms safeguard against losing money is to take out an insurance policy against companies collapsing.
"Quite a number of oil companies have credit insurance," explains Petroplus' Evans. "You pay an annual premium to the insurance company. If necessary the insurance pays 90% of the bad debt and the oil firm pays the remaining 10%."
Oil company debts Evans explains the process is more expensive than to selfinsure, and there is difficulty getting credit insurers to take on some of the company's customers. "[But] there is art increasing trend towards this because oil companies have been suffering a lot of debt. Economic growth slows down and bad debts increase, and therefore you get a greater interest in credit insurance."
He adds that it would be part of the policy that a haulier's accounts would be sought.
• E-mai arlstophertinclall CoDrbl.co.uk