NATIONAL CONFERENCES TO POPULARIZE THE ELECTRIC.
20th December 1935
Page 27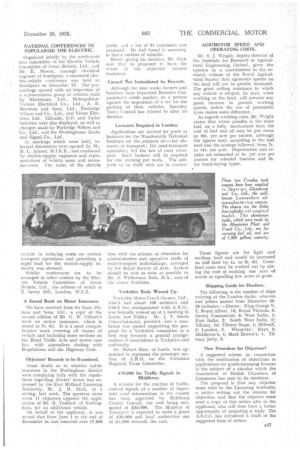 Page 27, 20th December 1935 —
NATIONAL CONFERENCES TO POPULARIZE THE ELECTRIC.
Close
Organized jointly by the north-west area committee of the Electric Vehicle Committee of Great Britain, Ltd., and Mr. E. Moxon, borough electrical engineer of Southport, a successful electric-vehicle conference was held at Southport on December 12. The proceedings opened with an inspection of a representative group of vehicles built by Electricars, Ltd., MetropolitanVickers Electrical Co., Ltd., A. E. Morrison and Sons, Ltd., Partridge Wilson and Co., Ltd., and Victor Electries, Ltd. Chloride, D.P. and Tudor batteries were also displayed, as well as chargers made by Partridge Wilson and Co., Ltd., and the Westinghouse Brake
and Signal Co., Ltd. ,
At meetings which were held, informal discussions were opened by Mr. R. L. Acland, M.T.E.E.,` and continued by electric-supply engineers and representatives of vehicle users and manufacturers. The value of the electric vehicle in redmcing costs on certain transport operations and providing a night load for the electric-supply industry was stressed.
Similar conferences are to be arranged in other centres by the Electric Vehicle Committee of Great Britain, Ltd., the address of which is 2, Savoy Hill, London, W.C.2.
A Sound Book on Motor Insurance.
We have received from Sir Isaac Pitman and Sons, Ltd., a copy of the second edition of Mr. G. W. Gilbert's hook on motor insurance, which is issued at 75. 6d. It is a most comprehensive work covering all classes of vehicle and including some sections on the Road Traffic Acts and motor case law, with appendices dealing with Regulations and the Highway Code.
Objectors' Records to be Examined.
Some doubt as to whether cattle removers in the Nottingham district were complying fully with the regulations regarding drivers' hours was expressed by the East Midland Licensing Authority, Mr. J. H. Stirk, at a sitting, last week. The question arose when 11 objectors opposed the application of Mr. B. Tuxford, of Nottingham, for an additional vehicle.
On behalf of the applicant, it was stated that from June 1 to the end of November he had removed over 17,Q00
cattle, and a list of 91 customers was produced. He had found it necessary to hire a number of vehicles.
Before giving his decision, Mr. Stirk said that he proposed to have the whole of the objectors records examined.
Council It ot Intimidated by Boycott.
Although for nine weeks farmers and butchers have boycotted Barnsley Corporation's cattle market, as a protest against the imposition of a tee for the parking of their vehicles, Barnsley Town Council has refused to alter its decision.
Lecturers Required in London.
Applications are invited for posts as lecturers for the Wandsworth Technical Institute on the ,subjects of :—(a) elements of transport ; (b) road-transport operation ; (c) the law of road transport. Each lecturer will be required for one evening per week. The subjects to be dealt with are in connee tion with the scheme of education for administrative and operative staffs of road-transport undertakings, arranged by the Royal Society of Arts. Letters should be sent as soon as possible to Mr. A. Williamson Bain, M.A., care' of the above Institute.
Yorkshire Body Wound Up.
Yorkshire Motor Coach Owners, Ltd',, which had about 100 members and which has amalgamated with A.R.O., was formally wound up at a meeting in Leeds, last Friday. Mr. J. T. Steele (vice-chairman) presided, and a resolution was passed supporting the proposal for a Yorkshire committee as a first step towards a general amalgamation of associations in Yorkshire and nationally.
Mr,. Robert Barr, of Leeds, was appointed to represent the PaSsenger section of A.R.O. on the Yorkshire Regional Fares Committee.
£50,000 for Traffic Signals in Middlesex.
A scheme for the erection of trafficcontrol signals at a number of important road intersections in the county has been approved by Middlesex County Council, the cost being estimated at £50,000. The Ministry of Transport is expected to snake a grant of £30,000 and local authorities one of £4,000 towards the cost. • AGRIMOTOR SPEED AND OPERATING COSTS.
Mr. S. J. Wright, deputy-director of the Institute for Research in Agricultural Engineering, Oxford, gives the opinion in a contribution to the research volume of the Royal Agricultural Society that agrimotor speeds on the land will not be greatly increased. The gieat rolling resistance to which any vehicle is subject, lie says, when working on the land, will prevent any great increase in present working speeds, unless the use of pneumatic tyres makes some difference.
As regards working costs, Mr. Wright states that where paraffin is the main fuel, on a fully mechanized farm the cost of fuel and oil may be put clown as 10s. per acre per annum, although the figures vary, according to the fuel used and the acreage followed, from 7s. to 14s. per acre. Depreciation and repairs are estimated at 4s. peiacre per annum for wheeled tractors and 5s. for track-laying types, These figures are for light and medium land and would be increased on stiff land by ls. to 2s. 6d. Gramland costs may be worked out by taking the cost of working one acre of arable as equalling five acres of grass.
Shipping Guide for Hauliers.
The following is the number of ships arriving at the London docks, wharves and jetties named from December 2028 inclusive :—DocKs : King George V. 7; Royal Albert, 10; Royal Victoria, 5; Surrey Commercial, 6; West India, 1; East India, 2; South West India, 2; Tilbury, 14; Tilbury Stage, 1; Millwall, 2; London, 2. WHaevEs; Hays, 5; Middleton's, 1; Mark Brown's, 1. Tilbury Jetty, 3.
New Procedure for Objectors?
A suggested reform in connection with the notification of objections to applications for goods-transpoit licences is the subject of, a circular which the Association of British Chambers of Commerce has sent to its members.
The proposal is that any objector must send to the Licensing Authority a notice setting out the reasons for objection, and that the objector must send a copy of this notice also to the applicant, who will thus have a better opportunity of preparing a reply. The A.B.C.C. has circulated a draft of the suggested form of notice.
Tags
People
:
J. T. Steele
,
E. Moxon
,
S. J. Wright
,
Royal Victoria
,
Millwall
,
Royal Albert
,
George V
,
A. Williamson Bain
,
B. Tuxford
,
J. H. Stirk
,
Robert Barr
,
G. W. Gilbert
,
Tilbury Stage
,
Mark Brown
,
R. L. Acland