Ford leads the buyer into temptation
1st May 1982
Page 36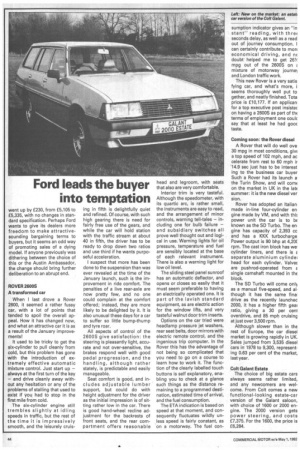 Page 36, 1st May 1982 —
Ford leads the buyer into temptation
Close
went up by £230, from £5,105 to £5,335, with no changes in standard specification. Perhaps Ford wants to give its dealers more freedom to make attractivesounding bargaining terms to buyers, but it seems an odd way of promoting sales of a dying model. If anyone previously was dithering between the choice of this or the Austin Ambassador, the change should bring further deliberation to an abrupt end.
ROVER 2600S A transformed car When I last drove a Rover 2600, it seemed a rather fussy car, with a lot of points that tended to spoil the overall appeal. How it has changed now, and what an attractive car it is as a result of the January improvements!
It used to be tricky to get the six-cylinder to pull cleanly from cold, but this problem has gone with the introduction of extremely effective automatic mixture control. Just start up — always at the first turn of the key — and drive cleanly away without any hesitation or any of the problems of stalling that used to exist if You had to stop in the first mile from cold.
The six-cylinder engine still trembles slightly at idling speeds in traffic, but the rest of the time it is impressively smooth, and the leisurely cruis
ing in fifth is delightfully quiet and refined. Of course, with such high gearing there is need for fairly free use of the gears, and while the car will hold station with the traffic stream at about 40 in fifth, the driver has to be ready to drop down two ratios and use third if he wants purposeful acceleration.
I suspect that more has been done to the suspension than was ever revealed at the time of the January launch, such is the improvement in ride comfort. The penalties of a live rear-axle are now pretty few, and no one could complain at the comfort offered; instead, they are more likely to be delighted by it. It is also unusual these days for a car to suffer so little bump-thump and tyre roar.
All aspects of control of the 2600S give satisfaction: the steering is pleasantly light, accurate and not over-sensitive, the brakes respond well with good pedal progression, and the handling, although rather stately, is predictable and easily manageable.
Seat comfort is good, and includes adjustable lumber support, but could do with height adjustment for the driver as the initial impression is of sitting rather low in the car. There is good hand-wheel recline adjustment for the backrests of front seats, and the rear compartment offers reasonable head and legroom, with seats that also are very comfortable.
Interior trim is very tasteful. Although the speedometer, with its quartic arc, is rather small, the instruments are easy to read, and the arrangement of minor controls, warning tell-tales — including one for bulb failure — and subsidiary switches all prove well thought out and logical in use. Warning lights for oil pressure, temperature and fuel are sensibly located at the base of each relevant instrument. There is also a warning light for low oil level.
The sliding steel panel sunroof has an automatic deflector, and opens or closes so easily that it must seem preferable to having an electrically operated one. It is part of the lavish standard equipment, as are electric action for the window lifts, and very tasteful walnut door trim inserts.
Options on the car tried were headlamp pressure jet washers, rear seat belts, door mirrors with electric remote control, and the ingenious trip computer. In the Rover this has the advantage of not being so complicated that you need to go on a course to learn how to work it. The function of the clearly labelled touch buttons is self explanatory, enabling you to check at a glance such things as the distance remaining to a programmed destination, estimated time of arrival, and the fuel consumption.
The ETA indication is based on speed at that moment, and consequently fluctuates wildly unless speed is fairly constant, as on a motorway. The fuel con sumption indicator gives an "in slant" reading, with threr seconds delay, as well as a read out of journey consumption. I can certainly contribute to mon economical driving, and nr doubt helped me to get 261/ mpg out of the 26005 on mixture of motorway journe) and London traffic work.
This new Rover is a very satis tying car, and what's more, i seems thoroughly well put to gether, and neatly finished. Tata price is £10,177. If an applican for a top executive post insister on having a 2600S as part of thE terms of employment one coulc say that at least he had goor taste.
Coming soon: the Rover diesel A Rover that will do well ove 30 mpg in most conditions, giv( a top speed of 102 mph, and ac ceterate from rest to 60 mph ir 14.9 sec just has to be interest ing to the business car buyer Such a Rover had its launch a the Turin Show, and will comE on the market in UK in the latE summer: it is the new diesel ver sion.
Rover has adopted an Italian made in-line four-cylinder en gine made by VM, and with thil power unit the car is to bE known as the SD Turbo. The en. gine has capacity of 2,393 cc and has a KKK turbocharge Power output is 90 bhp at 4,20( rpm. The cast iron block has we cylinder liners, and there is E separate aluminium cylindei head for each cylinder. ValveE are pushrod-operated from E single camshaft mounted in thE block,
The SD Turbo will come onlri as a manual five-speed, and although it has the same final drive as the recently launchec 2000, it has a higher fifth gear ratio, giving a 30 per cenl overdrive, and 85 mph cruising at just over 3,500 rpm.
Although slower than in the rest of Europe, the car diesel market is growing rapidly in UK. Sales jumped from 3,535 diesel Cars in 1978 to 9,300, representing 0.63 per cent of the market, last year.
Colt Galant Estate The choice of big estate cars always seems rather limited, and any newcomers are welcome. From Colt comes a new functional-looking estate-car version of the Galant saloon, with choice of 1600 or 2000 engine. The 2000 version gets power steering, and costs £7,375. For the 1600, the price is £6,284.