Ford leads the buy r into temptati • n
1st May 1982
Page 34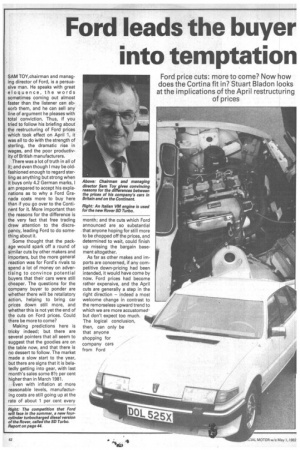 Page 35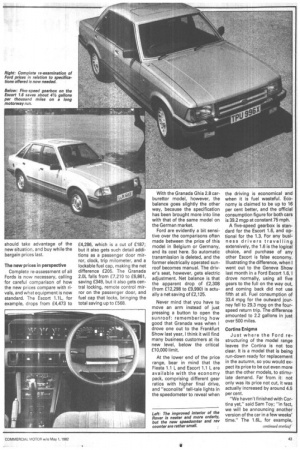 Page 34, 1st May 1982 —
Ford leads the buy r into temptati • n
Close
Keywords :
Road Transport
,
Hatchbacks
,
Sedans
,
Station Wagons
,
Coupes
,
Convertibles
,
Ford Motor Company
,
Ford Escort
,
Ford Granada
,
Ford Model T
,
Ford Focus
,
Ford Cortina
SAM TOY,chairman and managing director of Ford, is a persuasive man. He speaks with great eloquence, the words sometimes coming out almost faster than the listener can absorb them, and he can sell any line of argument he pleases with total conviction. Thus, if you tried to follow his briefing about the restructuring of Ford prices which took effect on April 1, it was all to do with the strength of sterling, the dramatic rise in wages, and the poor productivity of British manufacturers.
There was a lot of truth in all of it; and even though I may be oldfashioned enough to regard sterling as anything but strong when it buys only 4.2 German marks, I am prepared to accept his explanations as to why a Ford Granada costs more to buy here than if you go over to the Continent for it. More important than the reasons for the difference is the very fact that free trading drew attention to the discrepancy, leading Ford to do something about it.
Some thought that the package would spark off a round of similar cuts by other makers and importers, but the more general reaction was for Ford's rivals to spend a tot of money on advertising to convince potential buyers that their cars were still cheaper. The questions for the company buyer to ponder are whether there will be retaliatory action, helping to bring car prices down still more, and whether this is not yet the end of the cuts on Ford prices. Could there be more to come?
Making predictions here is tricky indeed; but there are several pointers that all seem to suggest that the goodies are on the table now, and that there is no dessert to follow. The market made a slow start to the year, but there are signs that it is belatedly getting into gear, with last month's sales some 81/2 per cent higher than in March 1981.
Even with inflation at more reasonable levels, manufacturing costs are still going up at the rate of about 1 per cent every month; and the cuts which Ford announced are so substantial that anyone hoping for still more to be chopped off the prices, and determined to wait, could finish up missing the bargain basement altogether.
As far as other makes and imports are concerned, if any competitive down-pricing had been intended, it would have come by now. Ford prices had become rather expensive, and the April cuts are generally a step in the right direction — indeed a most welcome change in contrast to the remorseless upward trend to which we are more accustomed. but don't expect too much.
The logical conclusion, then, can only be that anyone shopping for company cars from Ford should take advantage of the new situation, and buy while the bargain prices last.
The new prices in perspective Complete re-assessment of all Fords is now necessary, calling for careful comparison of how the new prices compare with rivals, and what equipment is now standard. The Escort 1.1L, for example, drops from £4,473 to £4,286, which is a cut of 087; but it also gets such detail additions as a passenger door mirror, clock, trip milometer, and a lockable fuel cap, making the net difference £205. The Granada 2.0L falls from £7,210 to £6,861, saving £349, but it also gets central locking, remote control mirror on the passenger door, and fuel cap that locks, bringing the total saving up to £568.
With the Granada Ghia 2.8 carburettor model, however, the balance goes slightly the other way, because the specification has been brought more into line with that of the same model on the German market.
Ford are evidently a bit sensitive over the comparisons often made between the price of this model in Belgium or Germany, and its cost here. So automatic transmission is deleted, and the former electrically operated sunroof becomes manual. The driver's seat, however, gets electric adjustment. Net balance is that the apparent drop of £2,308 (from E12,298 to £9,990) is actually a net saving of £2,125.
Never mind that you have to move an arm instead of just pressing a button to open the sunroof: remembering how good that Granada was when I drove one out to the Frankfurt Show last year, I think it will find many business customers at its new level, below the critical £10,000 limit.
At the lower end of the price range, bear in mind that the Fiesta 1.1 L and Escort 1.1 L are available with the economy pack, comprising different gear ratios with higher final drive, and "econolite" tell-tale lights in the speedometer to reveal when
the driving is economical and when it is fuel wasteful. Economy is claimed to be up to 16 per cent better, and the official consumption figure for both cars is 39.2 mgp at constant 75 mph.
A five-speed gearbox is standard for the Escort 1.6, and optional for the 1.3. For any business drivers travelling extensively, the 1.6 is the logical choice, and purchase of any other Escort is false economy. Illustrating the difference, when I went out to the Geneva Show last month in a Ford Escort 1.6, I drove normally, using all five gears to the full on the way out, and coming back did not use fifth at all. Fuel consumption of 33.4 mpg for the outward journey fell to 29.3 mpg on the fourspeed return trip. The difference amounted to 2.2 gallons in just over 500 miles.
Cortina Enigma
Just where the Ford restructuring of the model range leaves the Cortina is not too clear. It is a model that is being run-down ready for replacement in the autumn, so you would expect its price to be cut even more than the other models, to stimulate demand. Far from it: not only was its price not cut, it was actually increased by around 4.5 per cent.
"We haven't finished with Cortina yet," said Sam Toy; "in fact, we will be announcing another version of the car in a few weeks' time." The 1.6L, for example,