More urgency, please
1st May 1982
Page 2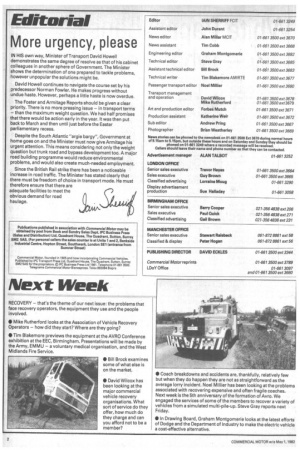 Page 2, 1st May 1982 —
More urgency, please
Close
IN HIS own way, Minister of Transport David Howell demonstrates the same degree of resolve as that of his cabinet colleagues in another sphere of Government. The Minister shows the determination of one prepared to tackle problems, however unpopular the solutions might be.
David Howell continues to navigate the course set by his predecessor Norman Fowler. He makes progress without undue haste. However, perhaps a little haste is now overdue.
The Foster and Armitage Reports should be given a clear priority. There is no more pressing issue — in transport terms — than the maximum weight question. We had half promises that there would be action early in the year. It was then put back to March and then until just before the Easter parliamentary recess.
Despite the South Atlantic "argie bargy", Government at home goes on and the Minister must now give Armitage his urgent attention. This means considering not only the weight question but trunk road and bypass development too. A major road building programme would reduce environmental problems, and would also create much-needed employment.
Since the British Rail strike there has been a noticeable increase in road traffic. The Minister has stated clearly that there must be freedom of choice in transport mode. He must therefore ensure that there are adequate facilities to meet the obvious demand for road haulage.