Opinions from Others.
1st July 1909
Page 19
Page 20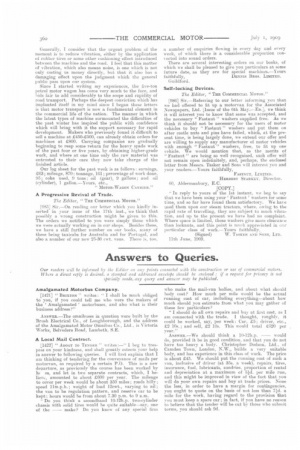 Page 19, 1st July 1909 —
Opinions from Others.
Close
Keywords :
The Advertisement Value of High Tailboards.
The Editor, "THE COMMERCIAL MOTOR."
[983] Sir,—We have much pleasure in answering your questions in the Royal Show report as to whether we have taken a hint from "Motor-wagon Carrier " re high tailboard. We did not happen to see his reference to this Is.sue of the 18th February.—En.], but we consider it makes a good advertisement. We have one which is 5 ft. high, and that is over two years old.—Yours faithfully,
Rotherham. WATT AND Fertsussox.
Users' Experiences (No. XX).
The Editor, "THE COMMERCIAL MOTOR."
[984] Sir,—This being the 20tii experience I have inflicted upon you, I would like to call a halt, and compare my later experiences, which are being obtained in summer weather, with those written when frost, snow and fog were the prevailing elements. Whilst the general tone of my letters clearly indicates that winter is a time of considerable worry to a carrier, the actual weekly returns show that the work can be carried out with a reasonable degree of steadiness, despite the difficulties winter presents; the cost of running, as shown by the coke accounts, points to the amount of extra work which is thrown upon the wagons when they are travelling over soft roads, and suggests the need of roads which are constructed to withstand frost, if they are to be used for heavy motor traffic.
The later returns show a steady increase in the amount of business which is being secured by motor wagons, and, considering the very depressed state of trade generally, this is a very valuable testimonial for the transport of goods by motor wagon.
The regulations concerning motor wagons are certainly being more stringently enforced to-day in my district than they were even six months ago, and, in view of the manner in which prosecutions are obtained and the severity with which judgments are passed in certain quarters, it seems to me time to consider whether it is wise that the outhori tie8 who impose such fines should be allowed to benefit by the same. A further significant fact is that the prosecuting solicitors invariably belabour the point that motor wagons do not pay any tax for the use of the roads—as if that were a relevant point in deciding a case I
Turning to the internal developments of the business, the difficulty of arranging the work has become very inueh greater as the year has proceeded: owing to the continued depression in trade, traffic is split up into small parcels; orders fluctuate according to the immediate needs of customers; and promptness in despatch becomes more necessary than ever, as stocks are allowed to run low before ordering. This is all opposed to the smooth working of a motor-wagon service, but the growth of the business shows that the customers are not dissatisfied with the way in which their requirements are being met.
The wagons have been standing up to their work very well ; beyond the renewing of tires and chains, as they have worn out, the repairs have been very reasonable. I am now having all the wagons fitted with metallic packing, as my early experience with it leads me to behave it will prove satisfactory, and it carries a guarantee for one year from the makers, and once properly packed appears to require no further attention; whilst this latter point presents an advantage from the driver's standpoint, it removes a very good means of ascertaining how a man is using his wagon on the road, as the amount of grease packing a careless driver requires is always far in excess of that required by a careful man. I have been trying beechwood for brake blocks, and provided the wood blocks are carefully fitted on to the iron shoes I find them ihost satisfactory. lastnut " washers seem to be all that the makers claim for them, and they have had a steadying effect upon certain nuts which previously showed abnormal nomadic tendencies. The mechanical Inbricators I have already mentioned are rapidly paying for themselves, by keeping the valves in good order. I recently examined a pair of cast-iron valves, which had been working for seven months, and found no indication whatever of wear upon them. Generally, I consider that the urgent problem of the moment is to reduce vibration, either by the application of rubber tires or some other cushioning effect introduced between the machine and the road. I feel that this matter of vibration, which also means noise, is one which is not only costing us money directly, but that it also has a damaging effect upon the judgment which the general public pass upon our system.
Since I started writing my experiences, the five-ton petrol motor wagon has come very much to the fore, and hids fair to add considerably to the scope and rapidity of road transport. Perhaps the deepest conviction which has implanted itself in my mind since I began these letters is that motor transport is now a fundamental element in the commercial life of the nation. The manner in which the latest types of machine surmounted the difficulties of the past winter has inspired the public with confidence which will bring with it the support necessary for rapid development. Makers who previously found it difficult to sell a machine at 2,150-2500, can already obtain orders for machines at 2.800. Carrying companies are gradually beginning to reap some return for the heavy spade work of the past four or five years, by obtaining higher-grade work, and where at one time only the raw material was entrusted to their care they now take charge of the finished article.
Our log sheet for the past week is as follows: earnings, 263; mileage, 870; tonnage, 161; percentage of work done, 95; coke used, 9 tons; oil (gear), 9 gallons; and oil (cylinder), 1 gallon.—Yours, etc.,
Moron-WacoN CAssiEn."
A Progressive Revival of Trade.
The Editor, " THE CO3IMERCIAL MOTOR."
[985] Sir,—On reading our letter which you kindly inserted in your issue of the 17th inst., we think that possibly a wrong construction might be given to this. The orders we notified to you were simply those which we were actually working on in our shops. Besides these, we have a still further number on our books, ninny of these being taxicabs for Australia and for Portugal, and also a number of our new 25-30 cwt. vans. There is, too, a number of enquiries flowing in every day and every week, of which there is a considerable proportion converted into sound orders.
• There are several interesting orders on our books, of which we shall be pleased to give you particulars at some future date, as they are for special inachines.—Yours
faithfully, DENNIS BROS. LIMITED. Guildford,
Self-locking Devices.
The Editor, "T COMMERCIAL MOTOR."
[986] Sir,—Referring to our letter informing you that we had offered to fit up a motorvan for the Associated Newspapers, Ltd. [Issue of the 6th May.—En.], we think it will interest you to know that same was accepted, and the necessary " Fastnut " washers supplied free, As we think it should not be necessary for the users of motor vehicles to buy " Fastnut " washers and put them on after castle nuts and pins have failed, which, at the present time, is being largely done, we extend our offer and are willing to supply any manufacturer of motor vehicles with enough " Fastnut " washers, free, to fit up one vehicle. We would mention that, as the merits of " Fastnut " are being so well recognised, such offer will not remain open indefinitely, and, perhaps, the enclosed letter from Messrs. Tasker and Sons will interest you and your readers.—Iours faithfully,
FASTNITT,
HERBERT STARKEY, Director. 60, Aldermanbury, E.C.
[COPY.] "In reply to yours of the 1st instant, we beg to say that we have been using your Fastnut ' washers for some time, and so far have found them satisfactory. We have used them upon our steam tractors, where, owing to the rapid rate of travelling, they are subject to much vibration, and up to the present we have had no complaint. Where space is limited, these washers give more clearance than locknuts, and this point is much appreciated in our particular class of work.—Yours faithfully,
(Signed) W. TASKER AND SONS, LTD. 11th June, 1909.