Compensation Case for High Court T O obtain a ruling on
1st February 1952
Page 28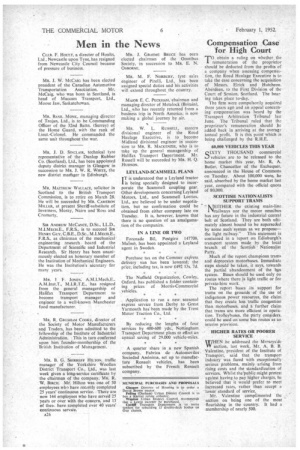 Page 28, 1st February 1952 —
Compensation Case for High Court T O obtain a ruling on
Close
whether_ the remuneration of the proprietor should be deducted from the profits of a company when assessing compensation, the Road Haulage Executive is to take the case concerning the acquisition of Messrs. Elrick and Hutcheon, Aberdeen, to the First Division of the Court of Session, Scotland. The hearing takes place to-day.
The firm were compulsorily acquired three years ag6 and an appeal concerning compensation was heard by the Transport Arbitration Tribunal last June. The Tribunal ruled that the proprietor's remuneration should be added back in arriving at the average tintial profit. It is this point which is being challenged by the R.H.E.
60,000 VEHICLES THIS YEAR CIXTY THOUSAND commercial 6--) vehicles are to be released to the home market this year, Mr. R. A. Butler, Chancellor of the Exchequer, announced in the House of Commons on Tuesday. About 100,000 were, he said, absorbed by the home market last year, compared with the official quota of 80,000.
SCOTTISH NATIONALISTS SUPPORT TRAMS
" NEITHER the existing main-line railways the the motor omnibus has any future in the industrial central belt of Scotland. They are both ultimately almost bound to be superseded by some such system as we propose—
the light railway." This statement is contained in a report on Edinburgh's transport system made by the local branch of the Scottish Nationalist Party. --' Much of the report champions trams and deprecates motorbuses. Immediate steps should be taken, it says, towards the partial abandonment of the 1ms system. Buses should be used only on routes where there is light traffic or for private-hire work.
The report bases its support for 'trams on the grounds of the use of indigenous power resources, the claim that they create less traffic congestion than motorbuses, and a further claim that trams are more efficient in operation. Trolleybuses, the party considers, could be used on some bus routes as artinterim provision.
HIGHER RATES OR POORER SERVICE
WHEN he addressed the Merseyside VV section, last week, 'Mr. A. B. B. Valentine, president of the Institute ol Transport, said that the transpori industry was faced with exceptionally serious problems, mainly arising from rising costs and the standardization of services. Whilst thepublic might protest against having to pay higher charges, he believed that it would prefer to meet increased rates, rather than accept a -lower standard of service,
Mr. Valentine complimented the section on being one of the most flourishing in the country. It had a membership of nearly 500.