Not Subsidiaries: Appeal Fails
1st February 1952
Page 27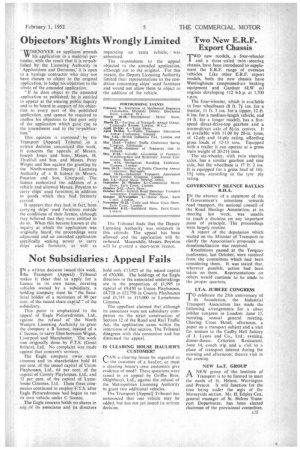 Page 27, 1st February 1952 —
Not Subsidiaries: Appeal Fails
Close
IN a written decision issued this week, the Transport (Appeal) Tribunal makes it clear that to apply for a licence in its own name, covering vehicles owned by a subsidiary, a holding company must be "the beneficial holder of a minimum of 90 per cent. of the issued share capital" of the subsidiary.
This point is emphasized in the appeal of Eagle Picturedromes, Ltd., against the refusal of the North Western Licensing Authority to grant the cbmpany a B licence, instead of a C licence, to carry films between Wigan, Liverpool and Manchester. The work was originally doneby F.T.S. (Great Britain), Ltd. No complaint was made against that concern's services.
The Eagle company' owns seven cinemas and its shareholders hold 84 per cent. of the issued capital of Union Playhouses, Ltd., 64 per cent. of the capital of County Playhouses, Ltd., and 32 per cent. of the capital of Lymehouse Cinemas, Ltd. These three companies continued to employ F.T.S. after Eagle Picturedrornes had begun to run its own vehicle under C licence.
The Eagle concern holds no shares in any. of its associates and its directors hold only £13,925 of the isiued capital of £50,000. The holdings of the Eagle directors in the associated undertakings are in the proportion of £1,995 to capital of £9,450 in Union Playhouses. 14,728 to £22,750 in County Playhouses and £1,745 to £15,000 in Lymehouse Cinemas.
The appellant claimed that although its associates were not subsidiary companies on the strict construction of Section 12 of the Road and Rail Traffic Act, the application came within the intentions of that section. The Tribunal. disagrees with this contention and has dismissed the appeal.
IS CLEARING HOUSE HAULIER'S CUSTOMER?
CAN a clearing house be regarded as the customer of a haulier, or must ' a clearing house's own customers give evidence of need? These questions were raised in an appealby Griffin Bros. (Highbury), Ltd., against the refusal of the Metropolitan Licensing Authority tn grant two additional vehicles.
The Transport [Appeal] Tribunal has announced that one vehicle may be added, but has not yet issued its written decision.