National Sin:ails Rate Schedule
1st February 1952
Page 26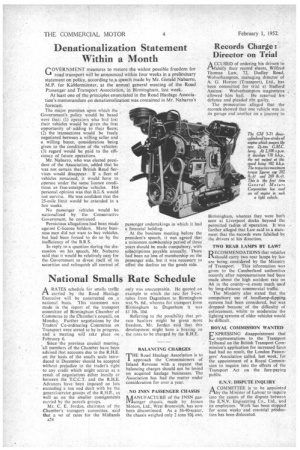 Page 26, 1st February 1952 —
National Sin:ails Rate Schedule
Close
ARATES schedule for smalls traffic carried by the Road Haulage Executive will be constructed on a national basis. This statement was made in the report of the transport committee of Birmingham Chamber of Commerce to the Chamber's council, on Monday. Further negotiations by the Traders' Co-ordinating Committee on Transport were stated to be in progress, and a meeting will take place on . February 6.
Since the previous council meetine, all members of the Chamber have'been advised that accounts due to the R.H.E. on the basis of the smalls scale introduced in December should be accepted without prejudiee to the trader's right to any credit which might accrue as a result of negotiations either locally or between the T.C.C.T. and the R.H.E. Advances have been imposed on lots exceeding a ton and dealt with by the general-service groups of the R.1-1.E., as well as on the smaller consignments carried by the parcels groups.
Mr. C. E. Jordan, chairman of the . Chamber's transport committee, said that a set of rates for the Midlands A24 only was unacceptable. He quoted art example in which the rate for 5-cwt. tubes from Dagenham to Birmingham was 9s. 6d.. whereas for transport from Birmingham to Dagenham it was £.1 10s. I0d.
Referring to the possibility that private hauliers might be given more freedom, Mr. Jordan said that this development might have a bearing on the rates to be charged by the R.H.E.
• BALANCING CHARGES
THE Road Haulage Association is to I approach the Commissioners of Inland Revenue with a request that balancing charges should not be levied on acquired haulage businesses. The Association has had the matter under consideration for over a year.
NO INSN PASSENGER CHASSIS hiTANUFACTURE of the INSN pasIVIsenger chassis, made by Jensen Motors, Ltd.. West Bromwich, has now been discontinued. As a 36-40-seater, the chassis weighed only 2 tons 10i cwt.