IMPORTANT FACTORS IN ROAD ACCIDENTS
1st December 1944
Page 32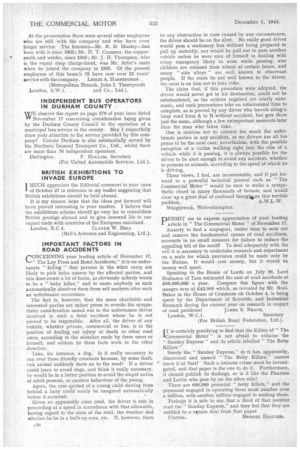 Page 32, 1st December 1944 —
IMPORTANT FACTORS IN ROAD ACCIDENTS
Close
CONCERNING your leading article of November 17, " The Lay Press and Road Accidents," it is an unfortunate " failing " that persons in the other camp are likely to pick holes unseen by the affected parties, and this does create a lot of harm, as obviously nobody wants to be a "baby killer," and to name anybody as such automatically absolves them from self analysis after such an unfortunate occurrence.
The fact is, however, that the more charitable and interested parties are rather prone to overdo the sympathetic consideration meted out to the unfortunate driver involved in such a fatal accident where he is not proved to be responsible. After all, the driver of any vehicle, whether private, commercial or bus, is in the position of dealing out injury or death to other road users, according to the mistakes made by these users or himself, and seldom do these facts work in the other direction.
Take, for instance, a dog. Is it really necessary to run over these friendly creatures because, by some fault, this animal suddenly darts on to the road? If a driver could learn to avoid dogs, and think it really necessary, he would be hi a better position to avoid the stupid antics of adult persons, or carefree behaviour of the young.
Again, the case quoted of a young child darting from behind a lorry could surely be imagined automatically before it occurred.
Given an apparently clear "road, the driver is safe in proceeding at a speed in accordance with that allowable, having regard to the state of the road, the weather ind whether he be in a built-up area, etc. If, however, there be any obstruction to view caused by any circumstance, the driver should be on the alert. No really good driver would pass a'stationary bus without being prepared to pull up instantly, nor would he pull out to pass another vehicle unless he were sure of himself in dealing with every emergency likely to arise while passing; also children are released from school at certain hours, and many " side alleys " are well known to observant people. If the route be not well known to the driver, the onus is on him not to take risks.
The claim that, if this procedure were adopted, the driver would never get to his destination, could not be substantiated, as the actions required are nearly automatic, and such precautions take an infinitesimal time to complete, as is proved by any driver who travels along a busy road from A to B without accident, but gets there just the same, although a few unimportant moments later than the man who takes risks.
One is anxious not to censure too much the unfortunate parties in any accident, as we drivers are all too prone to be the next case; nevertheless, with the possible .exception of a victim walking right into the side of a vehicle while it is passing, it is always possible for the driver to be alert enough to avoid any accident, whether to persons or animals, according to the speed at which he is driving.
These views, I feel, are incontestable, and if put forward in a powerful technical journal such as " The Commercial Motor" would be sure to strike a sympathetic chord in many thousands of breasts, and would clear up a great deal of confused thouglon this terrible
problem. A.W.L-W. Whightwick, Wolverhampton.
IDERMIT me to express appreciation of your leading
article in" The Commercial Motor " of November 17:
Anxiety to find a scapegoat, rather than to seek out and remove the fundamental causes of road accidents, accounts in no small measure for failure to reduce the appalling toll of the roadr. To deal adequately with the evil it is necessary to undertake research and experiment on a scale for which provision could be made only by the Nation. It would cost money, but it would be money well spent.
Speaking in the House of Lords on July 26, Lord Brabazon of Tara estimated the cost of road accidents at £50,000,000 a year. Compare this figure with the meagre sum of £43,000 which, as revealed by Mr. NoelBaker in the House of Commons oh October 4, is being spent by the Department of Scientific and Industrial Research during the current year on research in respect of road problems! JAMES S. NEAVE,
London, W .0 .1. Secretary (For British Road Federation, Ltd.).
I T is certainly gratifying to find that the Editor of" The Commercial Motor" is not afraid to criticize the "Sunday Express" and its article labelled "The Baby Killers."
Surely the " Sunday Express," as it has, apparently, discovered and named "The Baby Killers," cannot leave it at that? Such a heinous crime must be investigated, and that paper is the one to do it. Furthermore, it should publish its findings; or is it like the Pharisee and Levite who pass by on the other side?
There are 600,000 potential " baby killers," and the personnel engaged in. operating them must number over a million, with another million engaged in making them.
Perhaps it is safe to say that a third of that number read the " Sunday Express," and they feel that they are entitled to a square deal froth that paper.
Clutton. BRISTOL HAULIER.