RETAIL DISTRIBUTORS PRESS FOR THE ENDING OF R.H.O.
1st December 1944
Page 24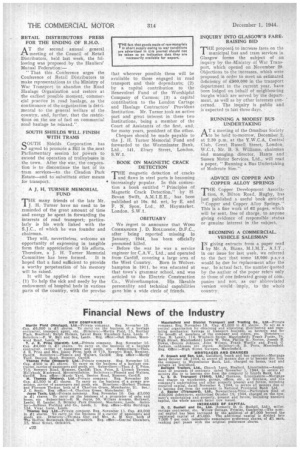 Page 24, 1st December 1944 —
RETAIL DISTRIBUTORS PRESS FOR THE ENDING OF R.H.O.
Close
AT the second annual general meeting of the Council of Retail Distributors, held last week, the following was proposed by the Hauliers' Mutual Federation:—
" That this Conference urges the Conference of Retail Distributors to make representations to the Ministry of War Transport to abandon the Road Haulage Organization and restore at the earliest possible moment, commercial practice in road haulage, as the continuance of the organization is detrimental to the general welfare of the country, and, further, that the restrictions on the use of fuel on commercial xoad haulage be relaxed."
SOUTH SHIELDS WILL FINISH WITH TRAMS
SOUTH Shields Corporation has agreed to promote a Bill in the next Parliamentary session for powers to extend the operation of trolleybuses in the town. After the war, the corporation is to discontinue the last of its tram services—to the Cleadon Park Estate—and to substitute other means
for transport. • • A J. H. TURNER MEMORIAL FUND
THE many friends of the late Mr. J H. Turner have no need to be reminded of the great amount of time and energy he spent in forwarding the interests of road transport; particularly is his work linked with the S.J.C., of which he was founder and chairman.
They will, nevertheless, welcome an opportunity of expressing in tangible form their appreciation of his efforts. Therefore, a J. H. Turner Memorial Committee has been formed. It is hoped that a fund sufficient to provide a worthy perpetuation of his memory will be raised.
It will be applied in three ways: (I) To help the sick and needy by the endowment of hospital beds in various parts of the country, with the proviso
that wherever possible these will be available to those engaged in road transport and their dependants; (2) by a capital contribution to the Benevolent Fund of the Worshipful Company of Carmen; (3) a capital contribution to the London Cartage and Haulage Contractors' Provident Institution. Mr, Turner took an active part and great interest in these two Institutions, being a member of the Court of Assistants of the first, and, for many years, president of the other.
Cheques should be made payable to the J. H. Turner Memorial Fund and forwarded to the Westminster Bank, Ltd., 141. Ebury Street. London, S.W.1.
BOOK ON MAGNETIC CRACK DETECTION
THE magnetic detection of cracks and flaws in steel parts is becoming increasingly popular. In this connection a book entitled "Principles of Magnetic Crack Detection," by H. Bevan Swift, A.M.I.E.E., has been published at 10s. 6d. net, by E. and F. N. Spon, Ltd., 57, Haymarket, London, S.W.1.
OBITUARY
We regret to announce that Wrists COMMANDER J. D. RosinesoN, D.F.C., after being reported missing in January, 1944, has been officially presumed killed.
Before the war he was a service engineer for C.A.V., Ltd., and operated from Cardiff, covering a large area of the West Country. Born in Wolverhampton in 1911, he was educated at that town's grammar school, and was articled to the Electric Construction Co., Wolverhampton, His likeable personality and technical capabilities gave him a wide circle of friends.
INQUIRY INTO GLASGOW'S FARE. RAISING BID
T"Epropos4 to increase fares on the municipal bus and tram services in Glasgow forms the subject of an inquiry by the-Ministry of War Transport, which opened on November 29. Objections to the increases, which were proposed in order to meet an estimated deficiency of 4500,000 in the transport department in the current year, have been lodged on behalf of neighbouring burghs which are served by the department, as well as by other interests con
cerned. The inquiry is public and is expected to last three days. .
RUNNING A MODEST BUS UNDERTAKING
AT a meeting of the Omnibus Society to be held. to-morrow, December 2, at 2.30 p.m. at the Y.W.C.A, Central Club, Great Russell Street, London, W.C.1, Mr. B. S. Williams, chairman ind managingdirector, Hants and Sussex Motor Services, Ltd., will read a paper, "Running a Bus Undertaking
of Moderate Size.". .
ADVICE ON COPPER AND COPPER ALLOY SPRINGS
THE Copper Development AssociaHon, 9, Bilton Road, Rugby, has just published a useful book entitled " Copper and Copper Alloy Springs." This is a fine work of 82 pages, which will be sent, free of charge, to anyone giving evidence of responsible status or genuine interest in the subject.
BECOMING A COMMERCIAL_ VEHICLE SALESMAN
IN giving extracts from a paper read
by Mr. A. Bitins, A.1.T.. in our issue for last week, we referred to the fact that some 15.000 p.s.v.s would be due for replacement after the war. In actual fact, the number quoted by the author of the paper refers only to those of one federated group of companies and not, as our abbreviated version would imply, to the whole country.
Tags
Organisations
:
London Cartage and Haulage Contractors' Provident Institution
,
J. H. TURNER MEMORIAL FUND
,
Ministry of War Transport
,
Hauliers' Mutual Federation
,
Wrists
,
Benevolent Fund
,
Council of Retail Distributors
,
Central Club
,
Road Haulage Organization
,
Court of Assistants
,
Omnibus Society