DECLARATION o f
1st August 1996
Page 30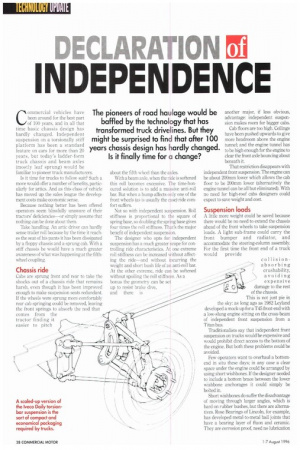 Page 31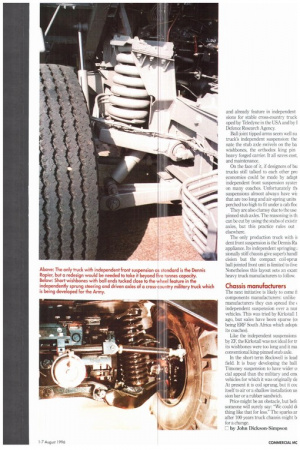 Page 30, 1st August 1996 —
DECLARATION o f
Close
Keywords :
Canadian Inventions
,
Suspension
,
Independent Suspension
,
Beam Axle
,
Sway Bar
,
Axle
,
Dump Truck
,
Frame
,
Truck
,
Corvette Leaf Spring
,
Hydropneumatic Suspension
INDEPENDENC
Commercial vehicles have been around for the best part of 100 years, and in all that time basic chassis design has hardly changed. Independent suspension on a torsionally stiff platform has been a standard feature on cars for more than 20 years, but today's ladder-form truck chassis and beam axles (mostly leaf sprung) would be familiar to pioneer truck manufacturers.
Is it time for trucks to follow suit? Such a move would offer a number of benefits, particularly for artics. And as this class of vehicle has moved up the sales league the development costs make economic sense.
Because nothing better has been offered operators seem blissfully unaware of their tractors' deficiencies—or simply assume that nothing can be done about them.
Take handling. An artic driver can hardly sense trailer roll because by the time it reaches the seat of his pants it has been dissipated by a floppy chassis and a sprung cab. With a stiff chassis he would have a much greater awareness of what was happening at the fifthwheel coupling.
Cabs are sprung front and rear to take the shocks out of a chassis ride that remains harsh, even though it has been improved enough to make suspension seats redundant. If the wheels were sprung more comfomthly rear cab springing could be removed, leaving the front springs to absorb the nod that comes from the tractor finding it easier to pitch about the fifth wheel than the axles.
With a beam axle, when the ride is softened this roll becomes excessive The time-honoured solution is to add a massive anti-roll bar. But when a bump affects only one of the front wheels (as is usually the case) ride comfort suffers.
Not so with independent suspension. Roll stiffness is proportional to the square of spring base, so doubling the spring base gives four times the roll stiffness. That's the major benefit of independent suspension.
The designer who opts for independent suspension has a much greater scope for controlling ride characteristics. At one extreme roll stiffness can be increased without affecting the ride—and without incurring the weight and short bush life of an anti-roll bar. At the other extretne, ride can be softened without spoiling the roll stiffness. As a bonus the geometry can be set up to resist brake dive, and there is another major, if less obvious, advantage: independent suspension makes room for bigger cabs.
Cab floors are too high. Ceilings have been pushed upwards to give more headroom above the engine tunnel; and the engine tunnel has to be high enough for the engine to clear the front axle bouncing about beneath it.
That restriction disappears with independent front suspension. The engine can be about 200mm lower which allows the cab floor to be 200mm lower (alternatively the engine tunnel can be all but eliminated). With no need for high-roof cabs designers could expect to save weight and cost.
A little more weight could be saved because there would be no need to extend the chassis ahead of the front wheels to take suspension loads. A light sub-frame could carry the front bumper and radiator, and accommodate the steering-column assembly. For the first time the front end of a truck would provide collisionabsorbing crushability, avoiding expensive damage to the rest of the chassis.
This is not just pie in the sky: as long ago as 1982 Leyland developed a mock-up for a T45 front-end with a low-slung engine sitting on the aoss-beam of independent front suspension from a Titan bus.
Traditionalists say that independent front suspension on trucks would be expensive and would prohibit direct access to the bottom of the engine. But both these problems could be avoided.
Few operators want to overhaul a bottomend in situ these days; in any case a clear space under the engine could be arranged by using short wishbones. lithe designer needed to include a bottom brace between the lower wishbone anchorages it could simply be bolted in.
Short wishbones do suffer the disadvantage of moving through larger angles, which is hard on rubber bushes, but there are alternatives. Rose Bearings of Lincoln, for example, has developed metal-to-metal ball joints that have a bearing layer of fluon and ceramic. They are corrosion proof, need no lubrication and already feature in independent sions for stable cross-country truck oped by Teledyne in the USA and by I Defence Research Agency.
Ball-joint tipped arms seem well su truck's independent suspension: the nate the stub axle swivels on the ba wishbones, the orthodox king pin heavy forged carrier. It all saves cost, and maintenance.
On the face of it, if designers of bu trucks still talked to each other pro economies could be made by adapt independent front suspension syster on many coaches. Unfortunately thi suspensions almost always have wif. that are too long and air-spring units perched too high to fit under a cab floc They are also clumsy due to the use pinned stub axles. The reasoning is th can be cut by using the stubs of ex istir axles, but this practice rules out elsewhere.
The only production truck with ii dent front suspension is the Dennis Ra appliance, its independent springing ; sionally stiff chassis give superb hand] cision but the compact coil-sprat ball-jointed front unit is limited to five Nonetheless this layout sets an exarr heavy truck manufacturers to follow.
The next initiative is likely to come fi components manufacturers: unlike manufacturers they can spread the independent suspension over a nur vehicles. This was tried by Kirkstall I ago, but sales have been sparse (oi being ERF South Africa which adopt( its coaches).
Like the independent suspensions by ZF, the Kirkstall was not ideal for aits wishbones were too long and it ma conventional king-pinned stub axle.
hi the short-term Rockwell is lead field. It is busy developing the ball Timoney suspension to have wider o cial appeal than the military and ern( vehicles for which it was originally de At present it is coil sprung, but it cot: itself to air or a shallow installation us sion bar or a rubber sandwich.
Price might be an obstacle, but befc someone will surely say: "We could di thing like that for less." The sparks ar after 100 years truck chassis might 13 for a change.
17 by John Dickson-Simpson