letters
1st August 1996
Page 22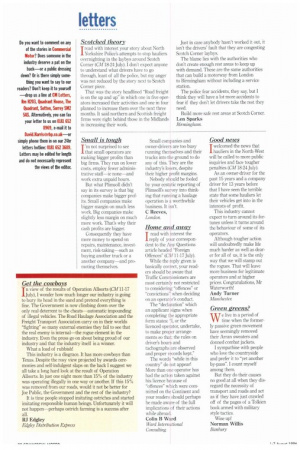 Page 22, 1st August 1996 —
letters
Close
Scotched theory
Tread with interest your story about North Yorkshire Police's attempts to stop hauliers overnighting in the laybys around Scotch Corner (CM 18-24 July). I don't expect anyone to understand what drivers have to go through, least of all the police, but my anger was not reduced by the story next to Scotch Corner piece.
That was the story headlined "Road freight is on the up and up" in which one in five operators increased their activities and one in four planned to increase them over the next three months. It said northern and Scottish freight firms were right behind those in the Midlands in increasing their work. Just in case anybody hasn't worked it out, it isn't the drivers' fault that they are congesting Scotch Corner laybys. The blame lies with the authorities who don't create enough rest areas to keep up with demand. These are the same authorities that can build a motorway from London to Birmingham without including a service station.
The police fear accidents, they say, but I think they will have a lot more accidents to fear if they don't let drivers take the rest they need.
Build more safe rest areas at Scotch Corner. Len Sparks Birmingham.