Taxi Owners Object , to Bus Service
1st April 1949
Page 9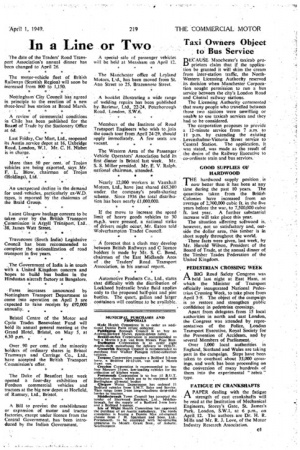 Page 9, 1st April 1949 —
Taxi Owners Object , to Bus Service
Close
BECAUSE Manchester's taxicab proprietors claim that if the application be granted it will skim the cream from inter-station traffic, the NorthWestern Licensing Authority reserved its decision when Manchester Corporation sought permission to run a bus service between the city's London Road and Central railway stations.
The Licensing Authority commented that many people who travelled between those two stations were unwilling or unablt to use taxicab services and they had to be considered.
The corporation proposes to provide a 12-minute service from 7 a.m. to 11 p.m. by extending the existing Levenshulme-Victoria Street service to Central Station. The application, it was stated, was made as the result of the desire of the Railway Executive to co-ordinate train and bus services.