PEDESTRIAN CROSSING WEEK
1st April 1949
Page 9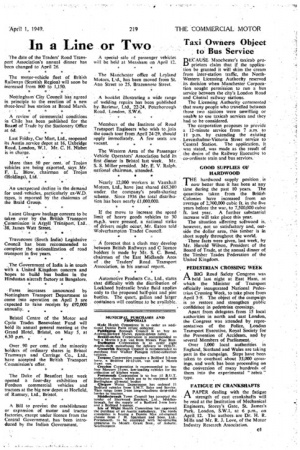 Page 9, 1st April 1949 —
PEDESTRIAN CROSSING WEEK
Close
A 13IG Road Safety Congress was LA held last night at East Ham, at which the Minister of Transport officially inaugurated National Pedestrian Crossing Week, to take place from April 3-9. The object of the campaign is to restore, and strengthen public confidence in pedestrian crossings.
Apart from delegates from 15 local authorities in north and east London, the Congress was attended by representatives of the Police, London Transport Executive, Royal Society for the Prevention of Accidents, and by several Members of Parliament.
Over 1,000 local authorities in England, Scotland and Wales are taking part in the campaign. Steps have been taken to overhaul about 35,000 crossings, and work has been proceeding on the conversion of many hundreds of them into the experimental " zebra " type.