Staggered Holidays : Campaign Fails ?
1st April 1949
Page 7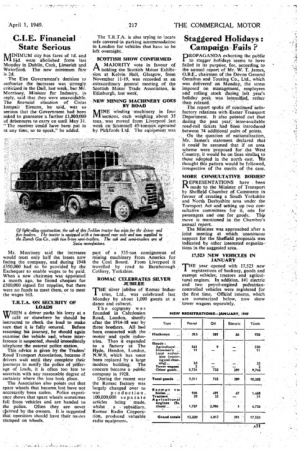 Page 7, 1st April 1949 —
Staggered Holidays : Campaign Fails ?
Close
DROPAGANDA exhorting the public I to stagger holidays seems to have failed in its purpose, for, according to the annual report of Mr. W. T. James, O.B.E., chairman of the Devon General Omnibus and Touring Co., Ltd., which was delivered on Monday, the stress imposed on rnanagernent, employees and rolling stock during lagt year's holiday peak was intensified, rattier than relaxed. '
The report spoke of continued satisfactory relations with Exeter Transport Department. It also pointed out that during the past year, inter-available road-rail tickets had been introduced between 74 additional pairs of points.
On the question of nationalization, Mr. James's statement declared that it could be assumed that if an area scheme were proposed for the West Country, it would be on tines similak to those adopted in the north east. 'Ha thought this pattern would be followed, irrespective of the merits of the case.
MORE CONSULTATIVE BODIES?
REPRESENTATIONS have been made to the Minister of Transport by Sheffield Chamber of Commerce in favour of creating a South Yorkshire and North Derbyshire area under the Transport Act and setting up two consultative committees for it, one for passengers and one for goods. This move is mentioned in the Chamber's annual report.
The Minister was approached after a joint meeting at which unanimous support for the Sheffield proposals was indicated by other interested organizations in the suggested area.
17,523 NEW VEHICLES IN JANUARY THE year opened with 17,523 new registrations of hackney, goods and exempt vehicles, tractors and agricultural engines. In addition, 141 electric and two • petrol-engined pedestriancontrolled vehicles were registered for the first time. Official returns, which are summarized below, now show tower wagons separately.