• A equisthons to be Speeded Up
1st April 1949
Page 5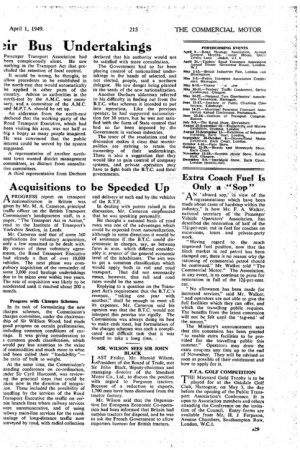 Page 5, 1st April 1949 —
• A equisthons to be Speeded Up
Close
A PROGRESS report on transport
nationalization in Britain was given by Mr. M. A. Cameron, principal traffic officer on the British Transport Commission's headquarters staff, in a paper, "The Transport Act in Action," read to the Institute of Transport's Yorkshire Section, in Leeds.
Mr, Cameron said that of some 360 applications for voluntary acquisition, only a few remained to 'be dealt with. By means of these voluntary agreements, the Road Transport Executive had already a fleet of over 10,000 vehicles. The next phase was compulsory acquisition of the remainder.of some 3,000 road haulage undertakings due to be taken over within two years. The rate of acquisition was likely to be accelerated until it reached about 200 a month.
Progress with Charges Schemes In its task of formulating the new, charges schemes, the Commission's charges committee, under the chairmanship of Sir William Wood, had made good progress on certain preliminaries, including common conditions of carriage. It was giving consideration to a common goods classification, which would pay less 'attention to the value Df commodities and much more to what lad been called their "lbadability "— he ratio of bulk to weight.
At the same time, the Commission's ;tanding conference on co-ordination, ander Sir Cyril Hurcornb, was reviewng the practical steps that could be .aken now in the direction of integraion. These included the possibility of ladling by the Services of the Road fransport Executive the traffic on ceinin branch lines where railway services vere unremunerative, and of using -ailway main-line services for the trunk aaulage of long-distance traffic now :onveyed by road, with radial collection and delivery at each end by the vehicles of the R.T.E.
In dealing with points raised in the discussion, Mr. Cameron emphasized that he was speaking personally.
He thought a national basis of road rates was one of the advantages which could be expected from nationalization, although in some directions it would be of assistance if . the B.T.C. could discriminate in charges, say, as between fares in area which differed considerably it respect of the general economic level of the inhabitants. The aim was to get a common classification which would apply both to rail and road' transport. That did not necessarily mean, however, that rail and road rates would be the same. '
Replying to a question on the Transport Act's requirement that the B.T.C.'s revenue, "taking one year with another," shall be enough to meet all its expenses, Mr. Cameron said his opinion was that the B.T.C. would not interpret this proviso too rigidly. The Commission was always doing its best to make ends meet, but formulation of the charges schemes was such a complicated and difficult task that it was hound to take a long tirne. • MR. WILSON SEES SIR JOHN BLACK.
LAST Friday, Mr. Harold Wilson, President of the Board of Trade, met Sir John Black, 'deputy-chairman and managing director of the Standard Motor Co., Ltd., to discuss the position with regard to Ferguson tractors. Because of a reduction in exports, 1,700 men have been dismissed from the tractor factory.
Mr: Wilson said that the Organization for European Economic Co-operation had been informed that Britain had surplus tractors for disposal, and he was to ask the French Government to allow importers licence:; for British tracters.