3ITISH Road Services have ade Richard Lovell group sales id
19th September 1981
Page 28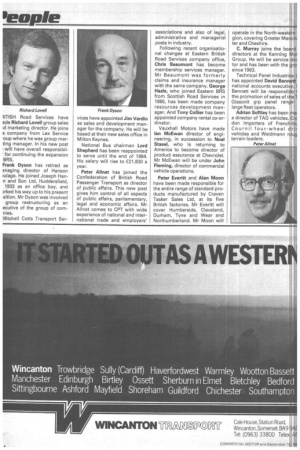 Page 28, 19th September 1981 —
3ITISH Road Services have ade Richard Lovell group sales id
Close
marketing director. He joins e company from Lex Service .oup where he was group marting manager. In his new post
• will have overall responsibil • for continuing the expansion BRS.
Frank Dyson has retired as 3naging director of Hanson iulage. He joined Joseph Hann and Son Ltd, Huddersfield,
1933 as an office boy, and )rked his way up to his present sition. Mr Dyson was involved group restructuring as an ecutive of the group of cornnies.
Vlitchell Cotts Transport Ser
vices have appointed Jim Verdin as sales and development manager for the company. He will be based at their new sales office in Milton Keynes.
National Bus chairman Lord Shepherd has been reappointed to serve until the end of 1984. His salary will rise to £21,830 a year.
Peter Allnat has joined the Confederation of British Road Passenger Transport as director of public affairs. This new post gives him control of all aspects of public affairs, parliamentary, legal and economic affairs. Mr Allnat comes to CPT with wide experience of national and international trade and employers'
associations and also of legal, administrative and managerial posts in industry.
Following recent organisational changes at Eastern British Road Services company office, Chris Beaumont has become membership services manager. Mr Beaumont was formerly claims and insurance manager with the same company. George Hazle, who joined Eastern BRS from Scottish Road Services in 1980, has been made company resources development manager. And Tony Collier has been appointed company rental co-ordinator.
Vauxhall Motors have made Ian McEvvan director of engineering, in succession to Noel Stasel, who is returning to America to become director of product assurance at Chevrolet. Mr McEwan will be under John Fleming, director of commercial vehicle operations.
Peter Everitt and Alan Moon have been made responsible for the entire range of standard products manufactured by Craven Tasker Sales Ltd, at its five British factories. Mr Everitt will cover Humberside, Cleveland, Durham, Tyne and Wear and Northumberland. Mr Moon will operate in the North-westei gion, covering Greater Manc ter and Cheshire.
C. Murray joins the board directors at the Kenning Mo1 Group. He will be service din tor and has been with the gro since 1963.
Technical Panel Industries I. has appointed David Bennett national accounts executive, I Bennett will be responsible the promotion of sales of the 1 Glasonit grp panel range large fleet operators.
Adrian Softley has been ma a director of TAG vehicles, Crc don importers of French-bL Cournil four-wheel dril vehicles and Weidmann roug terrain loaders.
Tags
People
:
Tony Collier
,
Adrian Softley
,
McEwan
,
Jim Verdin
,
Chris Beaumont
,
George Hazle
,
Peter Allnat
,
Peter Everitt
,
Frank Dyson
,
Ian McEvvan
,
Noel Stasel
,
C. Murray
,
David Bennett
,
Alan Moon