It could be fun to queue for a bus
19th September 1981
Page 22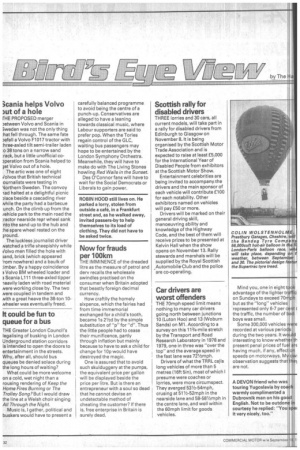 Page 22, 19th September 1981 —
It could be fun to queue for a bus
Close
THE Greater London Council's legalising of busking in London Underground station corridors is intended to open the doors to entertainment in the streets. Why, after all, should bus queues be denied solace during the long hours of waiting?
What could be more welcome on a cold, wet night than a rousing rendering of Keep the Home Fires Burning or The Trolley Song? But I would draw the line at a Welsh choir singing All Through the Night.
Music is, I gather, political and buskers would have to present a carefully balanced programme to avoid being the centre of a punch-up. Conservatives are alleged to have a leaning towards classical music, where Labour supporters are said to prefer pop. When the Tories regain control of the GLC, waiting bus passengers may hope to be entertained by the London Symphony Orchestra. Meanwhile, they will have to make do with The Living Stones howling Red Wails in the Sunset.
Des O'Connor fans will have to wait for the Social Democrats or Liberals to gain power.