These Loads are
19th May 1950
Page 44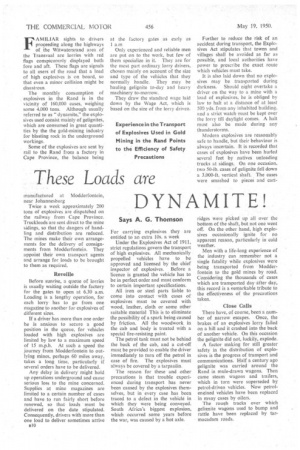 Page 44, 19th May 1950 —
These Loads are
Close
DYNAMITE!
Says A. G. Thomson
FAMILIAR sights to drivers proceeding along the highways of the Witwatersrand area of the Transvaal are lorries with red flags conspicuously displayed both fore and aft. These flags are signals to all users of the road that a load of high explosives is on board, so that even a minor collision might be disastrous.
The monthly consumption of explosives in the Rand is in the vicinity of 160,000 cases, weighing some 4,000 tons. Although usually referred to as "dynamite," the explosives used consist mainly of gelignites, which are consumed in great quantities by the the gold-mining industry for blasting rock in the underground workings.
Some of the explosives are sent by rail to the Rand from a factory in Cape Province, the balance being mannfactured at Modderfontein, near Johannesburg
Twice a week approximately 200 tons of explosives are dispatched on the railway from Cape Province. Truckloads are sent direct to the mine sidings, so that the dangers of handling and distribution are reduced. The mines make their own arrangements for the delivery of consignments from Modderfontein. They appoint thenown transport agents and arrange for loads to be brought to them as required.
Reveille
Before sunrise, a queue of lorries is usually waiting outside the factory for the gates to open at 6.30 a.m. Loading is a lengthy operation, for each lorry has to go from one magazine to another for explosives of different sizes.
If a driver has more than one order he is anxious to secure a good position in the queue, for vehicles loaded with high explosives are limited by law to a maximum speed of 15 m.p.h. At such a speed the journey from Modderfontein to outlying mines, perhaps 60 miles away, takes a long time, particularly if several orders have to be delivered.
Any delay in delivery might hold up operations underground and cause serious loss to the mine concerned. Supplies at mine magazines are limited to a certain number of cases and have to run fairly short before renewed, so that loads must be delivered on the date stipulated. Consequently, drivers with more than one load to deliver sometimes arrive slO at the factory gates as early as 1 a.m Only experienced and reliable men are put on to the work, but few of them specialize in it. They are for the most part ordinary, lorry drivers, chosen mainly on account of the size and type of the vehicles that they normally handle. They may be hauling gelignite to-day and heavy machinery to-morrow.
They draw the standard wage laid down by the Wage Act, which is based on the size of the lorry driven.
For carrying explosives they are entitled to an extra 10s. a week Under the Explosives Act of 1911, strict regulations govern the transport of high explosives. All mechanically propelled vehicles have to be approved and licensed by the chief inspector of explosives. Before a licence is granted the vehicle has to be in perfect order and must conform to certain important specifications.
All iron or steel parts liable to come into contact with cases of explosives must be covered with wood, leather, cloth or some other suitable material This is to eliminate the possibility of a spark being caused by friction. All the woodwork in the cab and body is treated with a special fire-resisting paint.
The petrol tank must not be behind the back of the cab, and a cut-off must be provided to enable the driver immediately to turn off the petrol in case of fire. The explosives must always be covered by a tarpaulin.
The reason for these and other precautions is that trouble experienced during transport has never been caused by the explosives themselves, but in every case has been traced to a defect in the vehicle in which they were being conveyed. South Africa's biggest explosion, which occurred some years before the war, was caused by a hot axle. Further to reduce the risk of an accident during transport, the Explosives Act stipulates that towns and villages shall be avoided as far as possible, and local authorities have power to prescribe the exact route which vehicles must take.
It is also laid down that no explosives may be transported during darkness. Should night overtake a driver on the way to a mine with a load of explosives, he is obliged by law to halt at a distance of at least 500 yds. from any inhabited building, and a strict watch-must be kept over the lorry till daylight comes. A halt must also be made during any thunderstorms.
Modern explosives are reasonably safe to handle, but their behaviour is always uncertain. It is recorded that cases of explosives have been hurled several feet by natives unloading trucks at sidings. On one occasion. two 50-lb. cases of gelignite fell down a 3,000-ft. vertical shaft. The cases were smashed to pieces and cart ridges were picked up all over the bottom of the shaft, but not one went off. On the other hand, high explosives occasionally ignite for no apparent reason, particularly in cold weather.
Men with a life-long experience of the industry can remember not a single fatality while explosives were being transported from Modderfontein to the gold mines by road. Considering the thousands of cases which are transported day after day, this record is a remarkable tribute to the effectiveness of the precautions taken.
Close Calls
There have, of course, been a number of narrow escapes. Once, the brakes of an explosives lorry failed on a hill and it crashed into the back of another vehicle. On this occasion the gelignite did not, luckily, explode.
A factor making for still greater safety in the distribution of explosives is the progress of transport and communications. Half a century ago gelignite was carried around the Rand in mule-drawn wagons. Then came steam wagons and trailers, which in turn were superseded by petrol-driven vehicles. Now petrolengined vehicles have been replaced in many cases by oilers.
The rough tracks over which gelignite wagons used to bump and rattle have been replaced by tar,macadam roads.