The Work of the S.M.M. and T.
19th May 1933
Page 52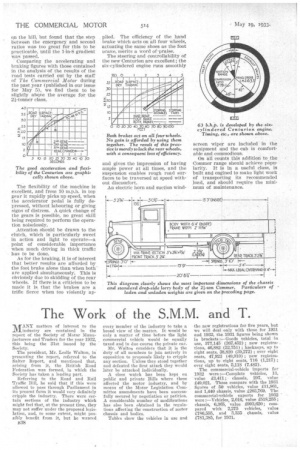 Page 52, 19th May 1933 —
The Work of the S.M.M. and T.
Close
MANY matters of interest to the industry are contained in the report of the Society of Motor Manufacturers and Traders for the year 1932, this being the 31st issued by the
Society.
The president, Mr. Leslie Walton, in presenting the report, referred to the Salter Report, and mentioned that, arising from it, the . British Road Federation was formed, in which the Society has taken a leading part.
Referring to the Road and Rail Traffic Bill, he said that if this were allowed to pass through Parliament in its present form it would very definitely cripple the industry. There were certain sections of the industry which might feel that, at the present time, they may not suffer under the proposed legislation, and, to some extent, might possibly benefit from it, but he wanted
1338
every member of the industry to take a broad view of the matter. It would be only a matter of time before the light commercial vehicle would be equally taxed and in due .course the private car.
Mr. Walton considers that it is the duty of all members to join actively in opposition to proposals likely to cripple any section. Unless they stood together and defeated the first attack they would later be attacked individually.
A close watch has been kept on public and private Bills where these affected the motor industry, and by means of the Motor Legislation Committee amendments have been successfully secured by negotiation or petition. A considerable number of modifications has also been obtained in the regulations affecting the construction of motor chassis and bodies.
Tables show the vehicles in use and
the new registrations for five years, but we will deal only with those for 1931 and 1932, the 1931 figures being shown in brackets :—Goods vehicles, total in use, 377,145 (367,452) ; new registrations, 40,882 (52,751) ; hackneys, up to eight seats, 38,820 (39,272) ; over eight seats, 47,923 (49,910) ; new registrations, up to eight seats, 716 (1,217) ; over eight Seats, 5,118 (7.482). The commercial-vehicle imports for 1932 were :—Complete vehicles, M value £3,411; chassis, 297, value £49,021. These compare with the 1931 gi.ires of 50 vehicles, value 111,861, and 1,440 chassis, value f203,769. The commercial-vehicle exports for 1932 were :—Vehicles, 2,016, value £518,255; chassis, 6,365, value £993,620; compared with 2,275 vehicles, value 1786,555, and 3,335 chassis, value 1781,385, for 1031.