This fleet owner tells you why
19th June 1964
Page 66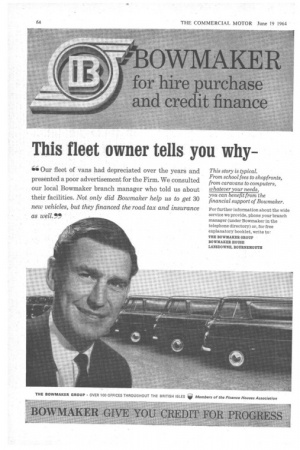 Page 67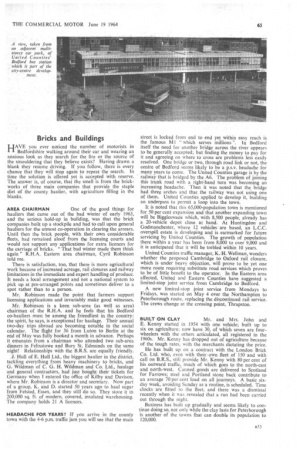 Page 66, 19th June 1964 —
This fleet owner tells you why
Close
Our fleet of vans had depreciated over the years and presented a poor advertisement for the Firm. We consulted our local Bowmaker branch manager who told us about their facilities. Not only did Bownialier help us to get 30 new vehicles, but they financed the road tax and insurance as well.,! This story is typical.
From school fees to shopfronts, from caravans to computers, whatever your needs, you can benefit from the financial support of Bowmaker.
For further information about the wide service we provide, phone your branch manager (under Bowmaker in the telephone directory) or, for free explanatory booklet, write to
Bricks and Buildings
HAVE you ever noticed the number of motorists in Bedfordshire walking around their car and wearing an anxious look as they search for the fire or the source of the smouldering that they believe exists? Having drawn a blank they resume driving. If you follow, there is every chance that they will Stop again to repeat the search. In time the solution is offered yet is accepted with reserve. The answer is, of course, that the smell is from the brickworks of three main companies that provide the staple diet of the county haulier, with agriculture filling in the blanks.
AREA CHAIRMAN One of the good things for
hauliers that came out of the bad winter of early 1963, and the serious hold-up in building, was that the brick companies built up a stockpile and had to call upon general hauliers for the utmost co-operation in clearing the arrears. Until then the brick people, with their own considerable fleets, had remained aloof from the licensing courts and would not support any applications for extra licences for the carriage of bricks. "That bad winter made them think again" R.H.A. Eastern area chairman, Cyril Robinson told me.
There is satisfaction, too, that there is more agricultural work because of increased acreage, rail closures and railway limitations in the immediate and expert handling of produce. It needs a local arrangement and not a national system to pick up at pre-arranged points and sometimes deliver to a spot rather than to a person.
Mr. Robinson made the point that farmers support licensing applications and invariably make good witnesses.
Mr. Robinson is a keen sub-area (as well as area) chairman of the R.H.A. and he feels that his Bedford co-hauliers must be among the friendliest in the country: the spirit, he says, is exceptional for haulage. Their annual two-day trips abroad are becoming notable in the social calendar. The flight for 36 from Luton to Berlin at the end of May was fully booked a month in advance. Perhaps it emanates from a chairman who attended two sub-area dinners in Felixstowe and Bury St. Edmunds on the same night! Relationships with the B.R.S. are equally friendly.
J. Hull of E. Hull Ltd., the biggest haulier in the district, tackling everything from heavy machinery to bricks, and G. Wildman of C. G. H. Wildman and Co. Ltd., haulage and general contractors, had just bought their tickets for Germany when I entered the office of Kilby and Davison. where Mr. Robinson is a director and secretary. Now part of a group, K. and D. started 50 years ago to haul sugar from Felsted, Essex, and they still do so. They store it in 200,000 sq. ft. of modern, covered, insulated warehousing. The company holds 21 A licences.
HEADACHE FOR YEARS? If you arrive in the county town with the 4-6 p.m. traffic jam you will see that the main
street is locked from end to end yet within easy reach is the famous MI "which serves millions ". In Bedford itself the need for another bridge across the river appears to be generally accepted; but finding the money to pay for it and agreeing on where to cross are problems less easily resolved. One bridge or two, through road link or not, the centre of Bedford seems likely to be a p.s.v. headache for many years to come. The United Counties garage is by the railway that is bridged by the Ab. The problem of joining this trunk road with a right-hand turn was becoming an increasing headache. Then it was noted that the bridge had three arches and that the railway was not using one of them. United Counties applied to develop it, building an underpass to permit a loop into the town.
It is noted that this 65,000-population town is mentioned for 50 per cent expansion and that another expanding town will be Biggleswade which, with 8,500 people, already has a 20-vehicle depot close at hand. At Huntingdon and Godmanchester, where 12 vehicles are based, an L.C.C. overspill estate is developing and is earmarked for future servicing by United Counties. The growth of population there within a year has been from 8,000 to over 9,000 and it is anticipated that it will be trebled within 10 years.
United Counties traffic manager, K. H. Wellman, wonders whether the proposed Cambridge to Oxford rail closure, which is under heavy objection, will prove to be yet one more route requiring substitute road services which proves to be of little benefit to the operator. In the Eastern area affected, United and Eastern Counties have suggested a limited-stop joint service from Cambridge to Bedford.
A new limited-stop joint service from Mondays to Fridays, was started on May 4 over the Northampton to Peterborough route, replacing the discontinued rail service. The crews change at the crossing point, Thrapston.
BUILT ONCLAY Mr. and Mrs. John and
E. Kenny started in 1954 with one vehicle; built up to six on agriculture: now have 30, of which seven are fourwheelers with the others articulated, all registered in the 1960s. Mr. Kenny has dropped out of agriculture because of the tough rates, with the merchants dictating the price.
He has built up on a contract with the London Brick Co. Ltd. who, even with their own fleet of 150 and with call on B.R.S., still provide Mr. Kenny with 80 per cent of his outward traffic, much of which goes to the north-east and north-west. Canned goods are delivered to Scotland for Farrows; steel and Portland stone back contribute to an average 70 per cent load on all journeys. A basic sixday week, avoiding Sunday as a routine, is scheduled. Time clocks are fitted to the fleet, and there was a dismissal recently when it was revealed that a run had been carried out through the night.
Business has built up gradually and seems likely to continue doing so, not only while the day lasts for Peterborough is another of the towns that can double its population to 120,000.