ORDERS AND DELIVERIES PAXITS POPULAR: Dennis Bros. Ltd. has received
19th June 1964
Page 40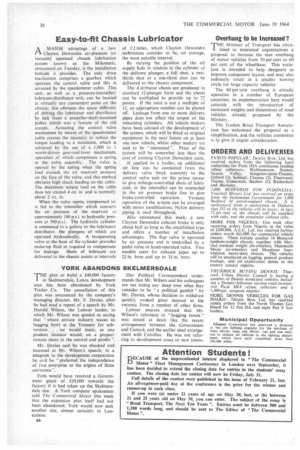 Page 40, 19th June 1964 —
ORDERS AND DELIVERIES PAXITS POPULAR: Dennis Bros. Ltd. has received
Close
orders from the following local authorities for Paxit 111A continuous loading refuse collectors: Walthamstow, Staines, Seaton Valley, Kingston-upon-Thames. Oxford (3), Solihull, Clacton (2), Fleetwood, Thame, Greenwich, Harlow (2), Rotherham and Barnsley.
I,000 BEDFORDS FOR INDONESIA: Vauxhall Motors Ltd: has received an order from the Indonesian Government for 1,008 Bedford 14 petrol-engined chassis. It is understood from a spokesman in Djakarta that 252 of the vehicles will be buses; in fact, 75 per cent of the chassis will be supplied with cabs, and the remainder without cabs.
MORE FOR NIGERIA: One week after receiving orders from Nigeria to the value of £200,000, A.E.C. Ltd. has received further orders worth £61,000 for commercial vehicle chassis. These include another 14 Monarch medium-weight chassis, together with Marshal medium weight six-wheelers, Mammoth Major six-wheelers and Mandator fourwheeled, heavy-duty chassis. The vehicles will be employed on logging, general produce haulage, and oil exploration duties in the eastern coastal regions.
THURROCK BUYING DENNIS: Thurrock Urban District Council is buying a number of Dennis municipal vehicles, including a Dennis/Johnston suction road sweeper, two Pas:it 1114 refuse collectors and a I.500-gal, cesspool emptier.
MORE DENNIS VEHICLES FOR GAS BOARD: Dennis Bros Ltd. has received repeat orders from the North Thames Gas Board for 12 Pax IIA and eight Pax V low loaders.
Municipal Opportunity
Glasgow Corporation has ammuved S Proposal of the city lighting engineer for the purchase of three 10-cwt. vans, one 30-cwt. van arid one minivan to replace six vehicles in the lighting department, which have each completed more than 100.000 miles.