LUCAS ANSWERS CRITICISMS
19th June 1964
Page 25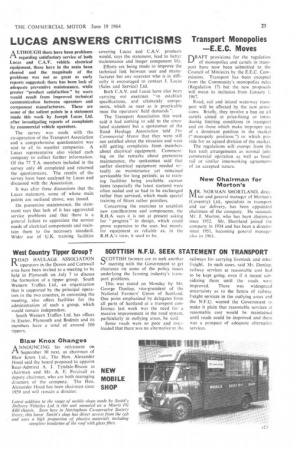 Page 25, 19th June 1964 —
LUCAS ANSWERS CRITICISMS
Close
ALTHOUGH there have been problems regarding satisfactory service of both Lucas and CAN. vehicle electrical equipment, these have in the main been cleared and the magnitude of the problems was not as great as early reports suggested; there has been lack of adequate preventive maintenance, while greater "product satisfaction" by users mould result from improved technical communication between operators and component manufacturers. These are some of the salient points in a statement made this week by Joseph Lucas Ltd. after investigating reports of complaints by commercial vehicle operators.
The survey was made with the co-operation of the Transport Association and a comprehensive questionnaire was sent to all its member companies. A Lucas representative also visited each company to collect further information. Of the 77 T.A. members included in the survey only 48 completed and returned the questionnaire. The results of the survey have been analysed by Lucas and discussed with the Association.
It was after these discussions that the Lucas statement, some of whose main points are outlined above, was issued.
On preventive maintenance, the statement says that lack of it has aggravated service problems and that there is a general failure to appreciate the service needs of electrical components and maintain them to the necessary standard. Wider use of U.K. training facilities covering Lucas and C.A.V. products would, says the statement, lead to better maintenance and longer component life.
Efforts are being made to improve the technical link between user and manufacturer but any operator who is in difficulty is encouraged to contact J. Lucas (Sales and Service) Ltd.
Both C.A.V. and Lucas have also been carrying out exercises "to establish specifications, and ultimately components, which as near as is practicable meet the operators' field demands ".
The Transport Association this week said it had nothing to add to the circulated statement but a spokesman of the Road Haulage Association told The Commercial Motor that they were still not satisfied about the situation and were still getting complaints from members about electrical equipment. Commenting on the remarks about preventive maintenance, the spokesman said that earlier electrical equipment needed virtually no maintenance yet remained serviceable for long periods; as to training facilities being available, current items (especially the latest starters) were often sealed and so had to be exchanged rather than serviced, which made special training of fitters rather pointless.
Concerning the exercises to establish new specifications and components, the R.H.A. says it is not at present asking for progress" in design, which could prove expensive to the user, but merely for equipment as reliable as, in the R.H.A.'s view, it used to be.