Scottish Fish Transport
19th January 1951
Page 55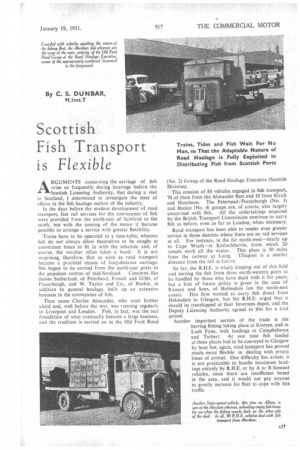 Page 56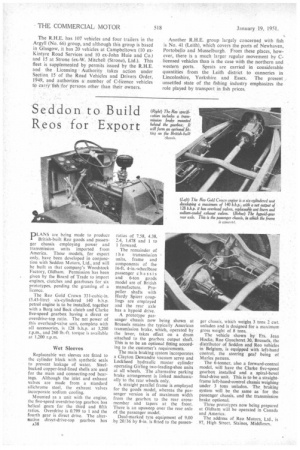 Page 55, 19th January 1951 —
Scottish Fish Transport
Close
is Flexible
By C. S. DUNBAR, M.Inst.T
ARGUMENTS concerning the carriage of fish arise so frequently during hearings before the Scottish Licensing Authority, that during a visit to Scotland, I determined' to investigate the state of affairs in the fish haulage section of the industry.
In the days before the modern development of road transport, fast rail services for the conveyance of fish were 'provided from the north-east of Scotland to the south, but with the coming of the motor it became possible to arrange a service with greater flexibility.
Trains have to be operated to a time-table, whereas fish do not always allow themselves to be caught at convenient times to fit in with the schedule and, of course, the weather often takes a hand. It is not surprising, therefore, that as soon as road transport became a practical means of long-distance carriage, fish began to be carried from the north-east ports to the populous centres of mid-Scotland. Concerns like James Sutherland, of Peterhead, French and Gibb, of Fraserburgh, and W. Taylor and Co., of Buckle, in addition to general haulage, built up an extensive business in the conveyance of fish.
Then came Charles Alexander, who went farther afield and, well before the war, was running regularly to Liverpool and London. Fish, in fact, was the real foundation of what eventually became a large business, and the tradition is carried on in the Old Ford Road (No. 2) Group of the Road Haulage Executive (Scottish Division).
This consists of 80 vehicles engaged in fish transport, 70 of them from the Alexander fleet and 10 from Elrick and Hutcheon. The Peterhead/Fraserburgh (No. 3) and Buckie (No. 4) groups are, of course, also largely concerned with fish. All the undertakings acquired by the British Transport Commission continue to carry fish as before, even as far as London, when necessary.
Road transport has been able to render even greater service in those districts where there are no rail services at all. For instance, in the far north-west—nearly up to Cape Wrath—is Kinlochbervie, from which 20 vessels work all the winter. This place is 50 miles from the railway at Lairg. Ullapool is a similar distance from the rail at Garve.
So far, the R.H.E. is wisely keeping out of this field and leaving the fish from these north-western ports to be handled by those who have dealt with it for years, but a hint of future policy is given in the case of Ranson and Sons, of Helmsdale (on the north-east coast). This firm wanted to carry fish direct from Helmsdale to Glasgow, but the R.H.E. urged that it should be transhipped at their Inverness depot, and the Deputy Licensing Authority agreed to this for a trial period.
Another important section of the trade is the herring fishing taking place at Kintyre, and in Loch Fyne, with landings at Campbeltown and Tarbert. At one time fish landed at these places had to be conveyed to Glasgow by boat but, again, road transport has proved much more flexible in dealing with erratic times of arrival. One difficulty has arisen; it is not practicable to handle maximum landings entirely by R.H.E. or by A or B licensed vehicles, since there are insufficient based in the area, and it would not pay anyone to greatly increase his fleet to cope with this traffic.
The R.H.E. has 107 vehicles and four trailers in the Argyll (No. 66) group, and although this group is based in Glasgow, it has 20 vehicles at Campbeltown (10 exKintyre Road Services and 10 ex-John Huie and Co.) and 15 at Strone (ex-W. Mitchell (Strone), Ltd.). This fleet is supplemented by permits issued by the R.H.E. and the Licensing • Authority takes action under Section 15 of the Road Vehicles and Drivers Order, 1949, and authorizes a number of C-licence vehicles to carry-fish for persons other than their owners.
Another R.H.E. group largely concerned with fish is No. 41 (Leith), which covers the ports of Newhaven, Portobello and Musselburgh. From these places, however, there is a much larger regular movement by Clicensed vehicles than is the case with the northern and western ports. Sprats are carried in considerable quantities from the Leith district to canneries in Lincolnshire, Yorkshire and Essex. The present unsettled state of the fishing industry emphasizes the role played by transpott in fish prices.