P.T.A. Strongly Resents 13.T C.'s Hasty Resignations
19th January 1951
Page 38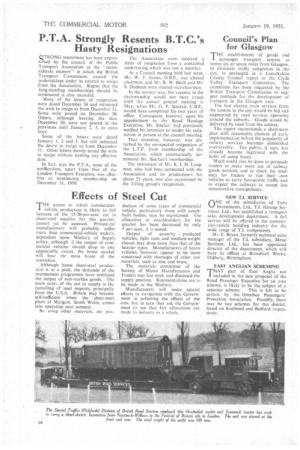 Page 38, 19th January 1951 —
P.T.A. Strongly Resents 13.T C.'s Hasty Resignations
Close
STRONG resentment has been expressed by the council of the Public Transport Association at the " inconsiderate manner" in which the British Transport Commission caused the undertakings Under its control to resign from the Association. Regret that the long-standing memberships should be terminated is also recorded.
Many of the letters of resignation were dated December 30 and intimated the wish to resign as from December 31. Some were posted on December 30. Others, although bearing the date December 30, were not posted in the provinces until January 2, 3, or even later.
Some of the letters were dated January 1, 2 and 3. but still indicated the desire to resign as from December 31. Other letters merely stated the wish to resign without naming any effective date.
In fact, says the P.T.A., none of the notifications, apart from that of the London Transport Executive, was 'ffeefive as terminating membership on December 31, 1950. , The Association even received a letter of resignation from .a controlled undertaking which was not a member.
At a Council meeting held last week, Mr. W. T. James. 0.B.E., was elected chairman, and Mr. R. W. Birch and Mr. S. Dudman were elected vice-chairmen.
In the normal way, the vacancy in the chairmanship would not have arisen until the annual general meeting in May, when Mr. G. F. Sinclair, C.B.E.. would have completed his two years of office. Consequent, however. upon his appointment to the Road Haulage Executive, Mr. Sinclair had previously notified his intention to tender his resignation in person at the council meeting.
That intention, however, was disturbed by the unexpected resignation of the L.T.E. from membership of the Association, which automatically terminated Mr. Sinclair's membership.
The retirement of Mr. R. I. H. Longman, who had been connected with the Association and its predecessors for about 25 years, was also occasioned by the Tilling group's resignation.