Effects of Steel Cut
19th January 1951
Page 38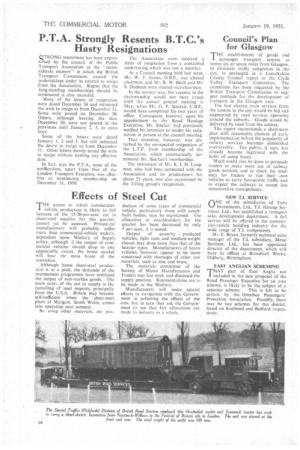 Page 38, 19th January 1951 —
Effects of Steel Cut
Close
THE extent to which commerciali vehicle production is likely to fall because of the 15-20-per-cent. cut in sheet-steel supplies for this quarter, cannot yet be assessed. Private-car manufacturers will probably suffer more than commercial-vehicle makers. dependent upon Ministry of Supply policy, aithough. if the output of commercial vehicles should drop to any appreciable extent, the home market will bear the main brunt of the restriction.
Although home sheet-steel production is at a peak, the demands of the rearmament programme have restricted the output of non-warlike goads. The main caus.±, of the cut in supply is the curtailing of steel imports, principally from the U.S.A. Britain may become self-sufficient when the sheet-steel . plant at Margam. South Wales, comes into operation next summer.
BY using other materials, the pro duction of some types of commercial vehicle, particularly those with coachbuilt bodies. may be maintained. The allocation to cottehbuilders for the quarter has been decreased by only 5 per cent., it is stated. .
Output of quantity produced vehicles, light vans and medium-weight chassis may drop more than that of the heavier types. Manufacturers of heavy vehicles, however, appear to be more concerned with shortages of other raw materials, such as zinc and brass.
The materials committee of the Society of Motor Manufacturers and Traders met last week and discussed the supply position. Representations are to be made to the Ministry.
Manufacturers will make special efforts to co-operate with the Government in softening the effects of the cuts, but in turn they ask the Government to see that fair allocations are made to industry as a whole,