U.S. and French Outputs
19th January 1951
Page 36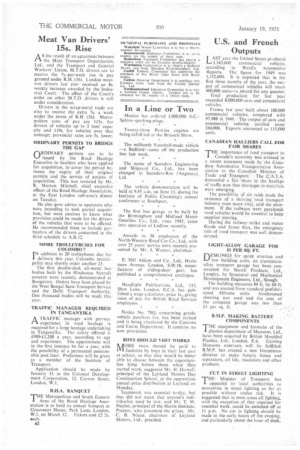 Page 36, 19th January 1951 —
U.S. and French Outputs
Close
LAST year the United States produced 1,343,000 commercial vehicles, according to Ward's Automotive Reports. The figure for 1949 was 1,132.000. It is expected that in the first three months of the year, the output of commercial vehicles will reach 400,000 units—a record for any quarter.
Total production for last year exceeded 8,000.000 cars and commercial vehicles.
France last year built about 100,000 commercial vehicles, compared with 97,988 in 1949. The output of cars and commercial vehicles totalled some 260,000. Exports amounted to 115,000 units.
CANADIAN HAULIERS CALL .FOR FAIR SHARES
THE importance of road transport to . Canada's economy was stressed in a recent statement made by 'the Canadian Automotive Transportation Association to the Canadian Minister of Trade and Transport. The C.A.T.A. demanded a fair -share in the haulage of traffic now that shortages in Materials were emerging.
The possibility of air, raids made the existence of a thriving road transport industry even more vital, said the statement. If the railways were paralysed. road vehicles would be essential to keep supplies moving.
During the railway-strike and recent floods and forest fires, the emergency role of road transport was well demonstrated.
L1GHT-ALLOY GARAGE FOR £1 PER SQ. FT.
DESIGNED for quick erection and low building costs, an aluminiumalloy transport garage has been constructed for Starch Products. Ltd.. Langley, by Structural and Mechanical Development Engineers, Ltd., Slough.
The building measures 84 ft. by 60 ft. and was erected from standard prefabricated Alframe units. Alochromed sheeting was used and the cost of the complete garage was less than £1 per sq. ft.
B.NI.P. MAKING BATTERY COMPONENTS
THE equipment and formula of the plastics department of Mansons, Ltd., have been acquired by British Moulded
Plastics, Ltd., London, E.4. Existing Mansons contracts will be fulfilled. B.M.P. has created a new bituminous division to make battery boxes and separators, all lids, insulators and other products.
CUT IN STREET LIGHTING
THE Minister of Transport has appealed to local authorities to economise in street hating so far as possible without undue risk. It is suggested that in most areas all lighting. with the exception of that required for essential work, could be switched off at 11 p.m. No cut in lighting should be made in the early hours of the evening, and particularly about the hour of dusk.