Big Demand for Daimlers C LA1MED to be the first operators
19th January 1951
Page 35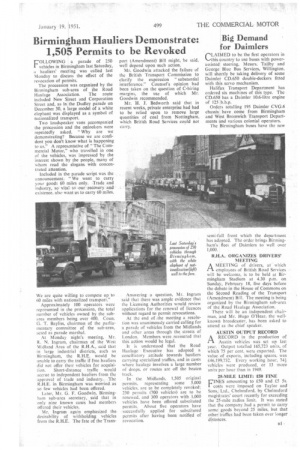 Page 35, 19th January 1951 —
Big Demand for Daimlers C LA1MED to be the first operators
Close
in L.-this country to use buses with powerassisted steering, Messrs. Tailby and George Blue Bus Services, Willington, will shortly be taking delivery of some Daimler CD.650 double-deckers fitted with this servo mechanism.
Halifax Transport Department has ordered six machines of this type. The CD.650 has a Daimler 10.6-litre engine of 125 b.h.p.
Orders totalling 195 Daimler CVG.6 chassis have come from Birmingham and West Bromwich Transport Departments and various colonial operators.
The Birmingham buses have the new semi-full front which the department has adopted. The order brings Birmingham's 1 fleet of Daimlers to well over 1,000.
R.4A. ORGANIZES DRIVERS' MEETING
AMEETING of drivers, at which employee; of British Road Services will he welcome, is to be held at Birmingham Stadium at 4.30 p.m. on Sunday. February 18, five days before the debate in the House of Commons on the Second Reading of the Transport (Amendment) Bill. The meeting is being organized by the Birmingham sub-area of the Road Haulage Association.
There will be an independent chairman, and Mr. Hugo O'Hear, the wellknown broadcaster, has been asked to attend as the chief speaker.
AUSTIN OUTPUT RECORD
ARECORD in the production of Austin vehicles was set up last year. Output totalled 165,723 units, of which 75 per cent, were exported. The value of exports, including spares, was £46.199,732. Every working hour. 741 vehicles were produced, or 13 more units per hour than in 1949.
25-MILE LIMIT: £50 FINE C1NES amounting to £50 and £5 5s.
costs were imposed on Taylor and Sons, Ltd., Chelmsford, by Chelmsford magistrates' court recently for exceeding the 25-mile radius limit. It was stated that the company ,had a permit to carry some goods beyond 25 miles, but that other traffics had been taken over longer distances.