F RESH demands for the Northern Group of M.P.s to meet
19th January 1951
Page 33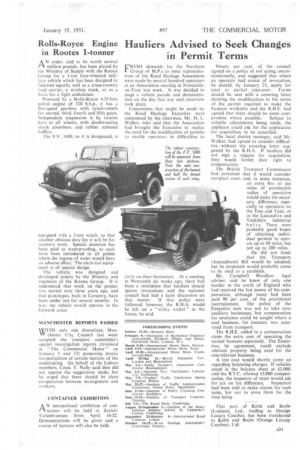 Page 33, 19th January 1951 —
F RESH demands for the Northern Group of M.P.s to meet
Close
representatives of the Road Haulage Association were made by several hundred operators at an Association meeting in Newcastleon-Tyne last week. It was decided to stage a vehicle parade and demonstration on the day that any such interview took place.
Concessions that might be made by the Road Haulage Executive were announced by the chairman, Mr, H. L. Walker, who said that the Association had brought the Executive to realize the need for the modification of permits to enable operators in difficulties to carry on their businesses. At a meeting in Newcastle six weeks ago, there had been a resolution that hauliers should ignore revocations and the national council had had a keen discussion on that matter. If that policy were followed, however, the R.H.A. would he left on a "sticky wicket" in the future, he said. Ninety per cent. of the council agreed on a policy of not acting unconstitutionally, and suggested that where an operator had notice of revocation, he should, by January 21, apply for total or partial , take-over, Forms should be sent with a covering letter showing the modifications in the terms of the permit required to make the business workable and the R.H.E. had agreed that there should be some com promise where possible. Subject to suitable adjustments being made, the applicant could ask for the application for acquisition to be cancelled.
The local district manager, said Mr. Walker, had agreed to consider difficulties without the covering letter suggested by the R.H.A. If hauliers did not sign a request for acquisition, they would forfeit their right to compensation.
lite British Transport Commission had I promised that it would consider marginal cases and, in some instances, an extra five or ten miles of permissible radius of operation would make the necessary difference, especially to operators on the Tees and Tyne, or in the Lancashire and Yorkshire industrial belts. There were probably good hopes of obtaining individual permits to operate up to 60 miles, but not up to 200 miles.
He did not think that the Transport (Amendment) Bill would be adopted, but its proposals would probably come to be used as a yardstick.
Mr. Campbell Wardtaw, legal adviser, said he knew of only one haulier in the north of England who had,received the last penny of his cornpenSation, although many had been paid 90 per cent. of the provisional ascertainment. The policy of the Executive now was not to take over ancillary businesses, but compensation for severance could be sought where a coal business, for instance, was separated from. transport.
The R.H.E. added to a compensation claim the extra cost of operating the second business separately_ The Executive, by agreement, could exclude relevant property being used for the non-relevant business.
A test Case would shortly come up regarding balancing charges. If vehicles stood in the balance sheet at £2,000, and the B.T.C. allowed £5,000 compensation, the inspector of taxes would ask
for tax on the difference. Inspectors had been told to make claims for such sums, but not to press them for the time being That part ot Keith and Boyle (London), Ltd., trading as Orange Luxury Coaches,' has been transferred to Keith and Boyle (Orange Litxury Coaches), lid.