A N order, said to be worth several PA million
19th January 1951
Page 33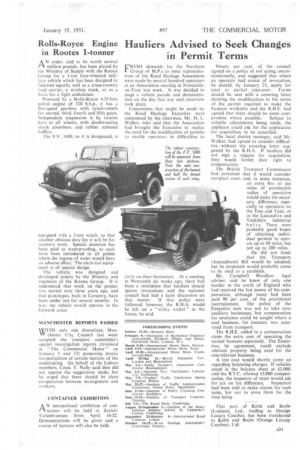 Page 33, 19th January 1951 —
A N order, said to be worth several PA million
Close
pounds, has been placed by the Ministry of Supply with the Rootes Group for a 1-ton four-wheeled military vehicle which has been designed to function equally well as a cross-country load carrier, a wireless truck, or as a basis for a light ambulance.
Powered by a Rolls-Royce 425-litre petrol engine of 120 b.h.p., it has a five-speed gearbox with synchromesh for second, third, fourth and fifth gears. Independent suspension is by torsion bars to all wheels, with double-acting shock absorbers, and rubber rebound buffers.
The F.V. 1600, as it is designated, is
equipped with a 2-ton winch, so that another obvious duty for it will be for recovery work. Special attention has been paid to waterproofing, as seals have been introduced to all points where the ingress of water would have an adverse effect. The electrical equipment is of special design.
Tile vehicle was designed and developed jointly by the Ministry and engineers of the Rootes Group. It is understood that work on the project was started over three years ago, and that prototypes, built in Coventry, have been under test for several months. In war, the vehicle would operate in the forward areas.
MANCHESTER REPORTS PASSED
WITH only one dissentient, ManVV chester City Council last week accepted the transport committee's special investigation reports (reviewed in " The Commercial Motor" on January 5 and 12) proposing drastic reorganization of certain sections of the undertaking. On behalf of the Labour members, Coun. T. Nally said they did not oppose the suggestions made, but he urged that there should be close co-operation between management and workers.
CONTAINER EXHIBITION
A N international exhibition of con tainers will be held at ZurichTiefenbreranen from April 14722 Demonstrations will he given and a course of lectures will also be held.