Cardiff on Mend : Sale Unlikely
19th January 1951
Page 32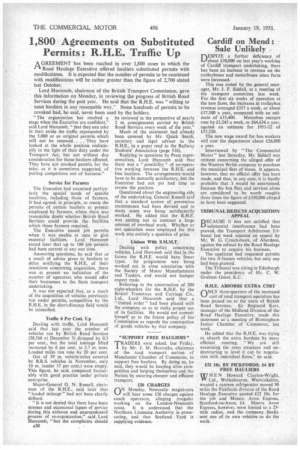 Page 32, 19th January 1951 —
Cardiff on Mend : Sale Unlikely
Close
DESPITE a further deficiency of about £38,000 on last year's working of Cardiff transport undertaking, there has been an increase in revenue on the trolleybuses and motorbuses since fares were increased.
This was stated by the general manager, Mr. J. F. Siddall, at a meeting of the transport committee last week.
For the first six weeks of operation at the new fares, the increases in trolleybus revenue averaged £337 a week, or about £17,500 a year, compared with an esti
mate of £13,400. Motorbus receipts rose by £1,243 a week, or £64,636 a year, against an estimate for 1951-52 of £55,320.
The new wage award for bus workers will cost the department about £26,000 a year.
Interviewed by "The Commercial Motor" last Saturday, Mr. Siddall was reticent concerning the alleged offer of the Western Welsh company to purchase the municipal fleet of buses. It appears, however, that no official offer has been made, and that, in any case, it is hardly probable that t would be entertained, because the bus fleet and services alone are considered to be worth roughly three times the figure of .050,000 alleged to have been suggested.
TRIBUNAL REJECTS ACQUISITION APPEAL BECAUSE it was not satisfied that substantial interference had been proved, the Transport Arbitration Tribunal last week rejected an appeal by Mr. W. G. Cruickshank, of Aberdeen, against the refusal by the Road Haulage Executive to acquire his business.
The applicant had requested permits for two A-licence vehicles, but only one had been granted.
The Tribunal was sitting in Edinburgh under the presidency of Mr. C. W. Graham Guest, K.C.
R.H.E. ABSORBS EXTRA COST nNLY three-quarters of the increased
cost of road transport operation has been passed on to the users of British Road Services. Sir Reginald Kerr, manager of the Midland Division of the Road Haulage Executive, made this statement at a meeting of Birmingham Junior Chamber of Commerce, last week.
He added that the R.H.E. was trying to absorb the extra burdens by more efficient running. "We are still examining the rates structure and endeavouring to level it out by negotiation with individual firms," he said.
£32 10s. BY PICKFORDS; 1.4 BY FREE HAULIERS WHEN Howard Clayton-Wright, Ylf Ltd., Wellesbourne, Warwickshire, wanted a canteen refrigerator moved 90 miles the Pickfords division of the Road Haulage Executive quoted £32 10s. for the job and Messrs. Avon Express, Stratford-on-Avon, £4. Messrs. Avon Express, however, were limited to a 25mile radius, and the company finally sent one of its own vehicles to do the work.