ONE HEARS
19th January 1926
Page 3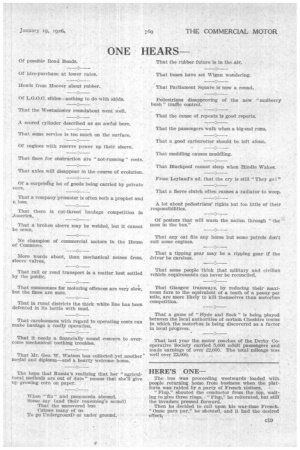 Page 3, 19th January 1926 —
ONE HEARS
Close
Of possible Road Bonds.
Of hire-purchase at lower rates. Howls from Hoover about rubber.
Of L.G.o.o. slides—nothing to do with skids.
That the Westminster roundabout went well.
A scored cylinder described as an awful bore.
That some service is too much on the surface. Of engines with reserve power up their sleeve.
That fines for obstruction are " not-running " costs.
That axles will disappear in the course of evolution.
Of a surprisfng lot of goods being carried by private cars, That a company promoter is often both a prophet and a loss.
• That there is cut-throat haulage competition in 'America.
That a broken sleeve may be welded, but it cannot be sewn.
No champion of commercial motors in the House of Commons, More words about, than mechanical noises from, sleeve valves, That rail or road transport is a matter best settled by the public.
That summonses for motoring offences are Very slow, but the fines are sure.
That in rural districts the thick white line has been defeated in its battle with mud.
That carelessness with regard to operating costs can make haulage a Costly operation.
That it .needs a financially sound concern to over. .come mechanical teething troubles.
That Mr. Geo. W. Watson has collected yet another medal and diploma—and a hearty welcome home.
The hope that Russia's realizing that her "agricultural methods are out of date" means that she'll give up growing corn on paper.
When "flu" and pneumonia abound, Some say (and theirreasoning's sound) That the uncovered bus Causes many of us To go UndergrounD or under ground. That the rubber future is in the Air. That buses have set Wigan wondering.
That Parliament Square is now a round.
Pedestrians disapproving of the new "mulberry bush" traffic control.
That the 'cause of. repeats is good reports.
That the passengers walk when a big-end runs.
That a good carburetter shouldbe left alone.
That meddling causes muddling.
That Blackpool cannot sleep when Hindle Wakes. From Leyland's ad. that the cry is still "They go I " That a fierce clutch often causes a radiator to weep.
A. lot about pedestrians' rights but too little of their responsibilities.
Of posters that will warn the nation through " the man in the bus."
That any oat fits any horse but some petrols don't suit some engines.
That a tipping gear may be a ripping gear if the driver be careless.
That some people think that military and civilian vehicle requirements can never be reconciled.
That Glasgow tramways, by reducing their maximum fare to the equivalent of a tenth of a penny per mile, are more likely to kill themselves than motorbus competition.
That a game of "Hyde and Seek" is being played between the local authorities of certain Cheshire towns in which the motorbus Is being discovered as a factor in local progress.
That last year the motor coaches of the Derby Cooperative Society carried 5,600 adult passengers and • made -earnings of over 12,000. The total mileage was • well over 22,000.