THE NEW POLICY OF COMMER CARS, LTD.
19th January 1926
Page 18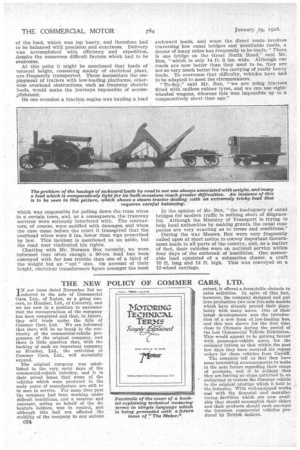 Page 18, 19th January 1926 —
THE NEW POLICY OF COMMER CARS, LTD.
Close
IN our issue dated November 3rd we referred to the sale of Commercial Cars, Ltd., of Luton, as a going concern, to Humber, Ltd., of Coventry, and we are now in a position to announce that the reconstruction of the company has been completed and that, in future, they will trade under the title of Commer Cars, Ltd. We are informed that there will be no break in the continuity of the commercial-vehicle programme of the original company, and there is little question that, with the backing of such an important company as Humber, Ltd., the activities of Commer Cars, Ltd., will materially expand.
The original company was established in the very early days of the commercial-vehicle industry, and it is their proud boast that some of the vehicles which were produced in the early years of manufacture are still tn be seen in service. For some time past the company had been working under difficult conditions, and a receiver and manager, acting on behalf of the debenture holders, was in control, and although this had not affected the stability of the company to any serious
extent, it offered a formidable obstacle to sales activities. In spite of this fact, however, the company designed and put into production two new live-axle models which have already proved their fopularity with many users. One of their latest developments was the introduction of a new form of low-loading bus, and this was shown for the first time close to Olympia during the period of the list Commercial Vehicle Exhibition. This would appear to be gaining favour with passenger-vehicle users, for the company inform us that within the past few days they have received six repeat orders for these vehicles from Cardiff.
The company tell us that they have some interesting announcements to make in the near future regarding their range of products, and it is evident that they are leaving no stone unturned in an endeavour to restore the Commer vehicle to the original prestige which it held in the industry. With well-equipped works tued with the financial and manufacturing facilities which are now available they should accomplish their object and their products should rank amongst the foremost commercial vehicles produced by British makers.