NBC operator on verge of bankruptcy
19th February 1971
Page 24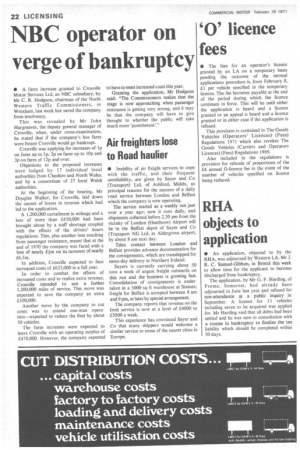 Page 24, 19th February 1971 —
NBC operator on verge of bankruptcy
Close
• A fares increase granted to Crosville Motor Services Ltd, an NBC subsidiary, by Mr C. R. Hodgson, chairman of the North Western Traffic Commissioners, in Wrexham, last week has saved the company from insolvency.
This was revealed by Mr John Hargreaves, the deputy general manager of Crosvillc, when, under cross-examination, he stated that if the company's bus fares were frozen Crosville would go bankrupt.
Crosville was applying for increases of lp on fares up to 5p, 2p on fares up to 10p and 3p on fares of 12p and over.
Objections to the proposed increases were lodged by 17 individual local authorities from Cheshire and North Wales, and by a consortium of 27 local Welsh authorities.
At the beginning of the hearing, Mr Douglas Walker, for Crosville, laid down the causes of losses in revenue which had led to the application.
A 1,200,000 curtailment in mileage and a loss of more than £450,000 had been brought about by a staff shortage coupled with the effects of the drivers' hours regulations. This, plus another loss resulting from passenger resistance, meant that at the end of 1970 the company was faced with a loss of nearly £4-m on its turnover of nearly £6.5m.
In addition, Crosville expected to face increased costs of £633,000 in a full year.
In order to combat the effects of increased costs and to realize extra revenue, Crosville intended to axe a further 1,200,000 miles of service. This move was expected to save the company an extra £100,000.
Another move by the company to cut costs was to extend one-man operation----expected to reduce the fleet by about 50 vehicles.
The fares increases were expected to leave Crosville with an operating surplus of £470,000. However, the company expected to have to meet increased costs this year.
Granting the application, Mr Hodgson said: "The Commissioners realize that the stage is now approaching when passenger resistance is getting very strong, and it may be that the company will have to give thought to whether the public will take much more `punishment'."