Was there a 'kangaroo' court?
19th February 1971
Page 23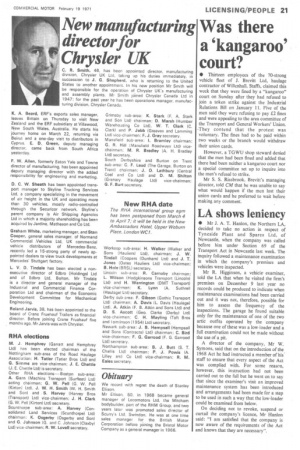 Page 23, 19th February 1971 —
Was there a 'kangaroo' court?
Close
• Thirteen employees of the 70-strong vehicle fleet of J. Brevitt Ltd, haulage contractor of Willenhall, Staffs, claimed this week that they were fined by a "kangaroo" court on Sunday after they had refused to join a token strike against the Industrial Relations Bill on January 11. Five of the men said they were refusing to pay £2 fines and were appealing to the area committee of the Transport and General Workers' Union. .They contend that the protest was voluntary. The fines had to be paid within two weeks or the branch would withdraw their union cards.
However, a TGWU shop steward denied that the men had been fined and added that there had been neither a kangaroo court nor a special committee set up to inquire into the men's refusal to strike.
Mr S. S. Rissbrook. Brevitt's managing director, told CM that he was unable to say what would happen if the men lost their union cards and he preferred to wait before making any comment.