LA shows leniency
19th February 1971
Page 23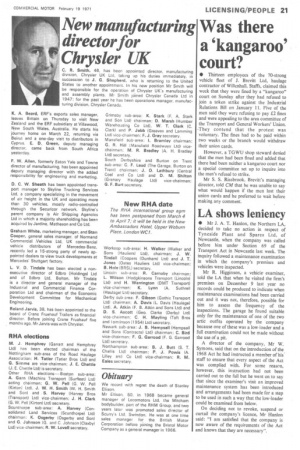 Page 23, 19th February 1971 —
LA shows leniency
Close
• Mr 1. A. T. Hanlon, the Northern LA, decided to take no action in respect of Tyneside Plant and Spares Ltd, of Newcastle, when the company was called before him under Section 69 of the Transport Act in Newcastle last week. The inquiry followed a maintenance examination in which the company's premises and vehicles were inspected.
Mr R. Higginson, a vehicle examiner, told the LA that when he visited the firm's premises on December 9 last year no records could be produced to indicate when maintenance examinations had been carried out and it was not, therefore, possible for him to assess the frequency of the inspections. The garage he found suitable only for the maintenance of one of the two antic outfits operated by the company because one of these was a low-loader and a full examination could not be made without the use of a pit.
A director of the company, Mr W. Symons, said that on the introduction of the 1968 Act he had instructed a member of his staff to ensure that every aspect of the Act was complied with. For some reason, however, this instruction had not been carried out to the full but he went on to say that since the examiner's visit an improved maintenance system has been introduced and arrangements had been made for a step to be used in such a way that the low-loader could be examined from below.
On deciding not to revoke, suspend or curtail the company's licence, Mr Hanlon said: "I am satisfied that the company is now aware of the requirements of the Act and knows that they are necessary".