New coaches for BOAC
19th February 1971
Page 22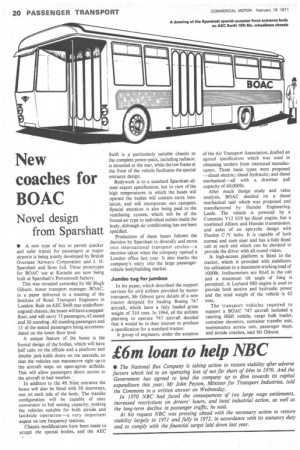 Page 22, 19th February 1971 —
New coaches for BOAC
Close
Novel design from Sparshatt
• A new type of bus to permit quicker and safer transit for passengers at major airports is being jointly developed by British Overseas Airways Corporation and J. H. Sparshatt and Sons Ltd. Three prototypes for BOAC use at Karachi are now being built at Sparshatt's Portsmouth factory.
This was revealed yesterday by Mr Hugh Gibson, motor transport manager. BOAC, in a paper delivered to a meeting of the Institute of Road Transport Engineers in London. Built on AEC Swift rear-underfloorengined chassis, the buses will have a steppedfloor, and will carry 75 passengers, 45 seated and 30 standing. All standing passengers and 15 of the seated passengers being accommodated on the lower floor level.
A unique feature of the buses is the frontal design of the bodies, which will have half cabs on the offside and a platform and dOuble jack-knife doors on the nearside, so that the vehicles can manoeuvre right up to the aircraft steps on open-apron airfields. This will allow passengers direct access to the aircraft in bad weather..
In addition to the 4ft frOnt entrance the buses will also be fitted with 5ft doorways, one on each side of the body. The standee configuration will be capable of easy conversion to full seating capacity, making the vehicles suitable for both airside and landside operation—a very important aspect on low frequency stations.
Chassis modifications have been made to accept the special bodies, and the AEC Swift is a particularly suitable chassis as the complete power-pack, including radiator, is mounted at the rear, while the low frame at the front of the vehicle facilitates the special entrance design.
Bodywork is to a standard Sparshatt allsteel export specification, but in view of the high temperatures in which the buses will operate the bodies will contain extra insulation, and will incorporate sun canopies. Special attention is also being paid to the ventilating system, which will be of the forced-air type to individual outlets inside the body, although air conditioning has not been specified.
Production of these buses follows the decision by Sparshatt to diversify and move into international transport circles---a decision taken when the company opened a London office last year. It also marks the company's entry into the large passengervehicle bodybuilding market.
Jumbo tug for jumbos In his paper, which described the support services for civil airlines provided by motor transport, Mr Gibson gave details of a new tractor designed for hauling Boeing 747 aircraft, which have a fully loaded gross weight of 310 tons. In 1964, all the airlines planning to operate 747 aircraft decided that it would be in their interest to produce a specification for a standard tractor.
A group of engineers, under the auspices
of the Air Transport Association, drafted an agreed specification which was used in obtaining tenders from interested manufacturers. Three basic types were proposed —diesel electric; diesel hydraulic; and diesel mechanical—all with a drawbar pull capacity of 60,000lb.
After much design study and value analysis, BOAC decided on a diesel mechanical unit which was proposed and manufactured by Hunslet Engineering, Leeds. The vehicle •is powered by a Cummins VI2 650 hp diesel engine, has a combined Allison and Hunslet transmission, and axles of an epicyclic design with Dunlop C /V hubs. It is capable of both normal and crab steer and has a fully fitted cab at each end which can be elevated to provide the driver with all-round vision.
A high-access platform is fitted to the tractor, which is provided with stabilizers for utilization to a maximum working load of 10001b. Inclinometers are fitted in the cab and a maximum tilt angle of 3deg is permitted. .A Leyland 680 engine is used to provide both motive and hydraulic power and the total weight of the vehicle is 42 tons.
The transport vehicles required to support a BOAC 747 aircraft included a catering Hilift vehicle, cargo bulk loader, container elevators, container transfer unit, maintenance access unit, passenger steps, and airside coaches, said Mr Gibson.