Seddon
19th February 1971
Page 21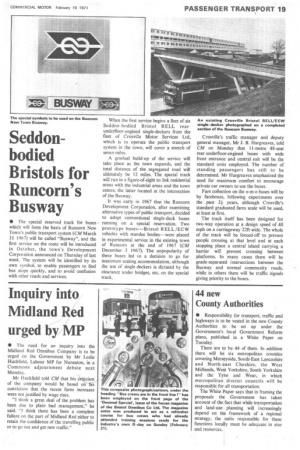 Page 21, 19th February 1971 —
Seddon
Close
bodied Bristols for Runcorn's Busway
• 'I'he special reserved track for buses which will form the basis of Runcorn New Town's public transport system (CM March 31 1967) will be called "Busway", and the first service on the route will be introduced in October, the town's Development Corporation announced on Thursday of last week. The system will be identified by its own symbol, to enable passengers to find bus stops quickly, and to avoid confusion with other roads and services. When the first service begins a fleet of six Seddon bodied Bristol RELL rearunderfloor-engined single-deckers from the fleet of Crosville Motor Services Ltd, which is to operate the public transport system in the town, will cover a stretch of seven miles.
A gradual build-up of the service will take place as the town expands, and the total distance of the segregated road will ultimately be 12 miles. The special track will run in a figure-of-eight to link residential areas with the industrial areas and the town centre, the latter located at the intersection of the Busway.
It was early in 1967 that the Runcorn Development Corporation, after examining alternative types of public transport, decided to adopt conventional single-deck buses • running on a special reservation. Two prototype buses—Bristol RELL/ECW vehicles with standee bodies—were placed in experimental service in the existing town of Runcorn at the end of 1967 (CM December 3 1967). The unpopularity of these buses led to a decision to go for maximum seating accommodation, although the use of single-deckers is dictated by the clearance under bridges, etc, on the special track. Crosville's traffic manager and deputy general manager, Mr J. B. Hargreaves, told CM on Monday that 11-metre 48-seat rear-underfloor-engined buses with wide front entrance and central exit will be the standard units employed. The number of standing passengers has still to be determined. Mr Hargreaves emphasized the need for maximum comfort to encourage private car owners to use the buses.
Fare collection on the o-m-o buses will be by fareboxes, following experiments over the past 21 years, although Crosville's standard graduated fares scale will be used, at least at first.
The track itself has been designed for two-way operation at a design speed of 40 mph on a carriageway 22ft-wide. The whole of the track will be fenced-off to prevent people crossing at that level and at each stopping place a central island carrying a barrier will prevent crossing between platforms. In many cases there will be grade-separated intersections between the Busway and normal community roads, while in others there will be traffic signals giving priority to the buses.