US-style
19th February 1971
Page 17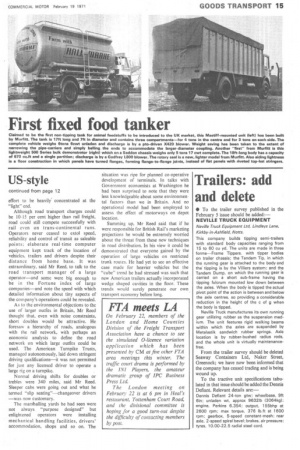 Page 17, 19th February 1971 —
US-style
Close
Continued from page 12 effort to be heavily' concentrated at the "light" end, Although road transport charges could be 10-15 per cent higher than rail freight, road could still compete successfully with rail even on trans-continental runs. Operators never ceased to extol speed, reliability and control of transit as saleable points; elaborate real-time computer equipment kept track of the location of vehicles, trailers and drivers despite their distance from home base. It was extraordinary, said Mr Reed, to talk to the road transport manager of a large operator—arid some were big enough to be in the Fortune index of large companies—and note the speed with which detailed information about tiny aspects of the company's operations could be revealed.
As to the environmental objections to the use of larger outfits in Britain, Mr Reed thought that, even with noise constraints, short doubles would be attractive. He foresaw a hierarchy of roads, analogous with the rail network, with perhaps an economic analysis to define the road network on which large outfits could be used. The American Turnpike Trusts, managed autonomously, laid down stringent driving qualifications—it was not permitted for just any licensed driver to operate a large rig on a turnpike.
Normal driving shifts for doubles or trebles were 340 miles, said Mr Reed. Sleeper cabs were going out and what he termed -slip seating"—changeover drivers —was now customary.
The marshalling yards he had seen were not always "purpose designed" but enlightened operators were installing mechanical handling facilities, drivers' accommodation, shops and so on. The situation was ripe for planned co-operative development of terminals. In talks with Government economists at Washington he had been surprised to note that they were less knowledgeable about some environmental factors than we in Britain. And no operational model had been employed to assess the effect of motorways on depot location.
Summing up, Mr Reed said that if he were responsible for British Rail's marketing projections he would be extremely worried about the threat from these new techniques in road distribution. In his view it could be demonstrated that everyone gained by the operation of large vehicles on restricted trunk routes. He had yet to see an effective case made for heavier vehicles but the "cube" trend he had stressed was such that new American trailers actually incorporated wedge shaped cavities in the floor. These trends would surely penetrate our own ransport economy before long.