Haulage wages bandwagon
19th February 1971
Page 16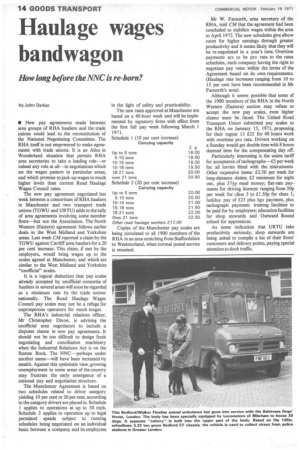 Page 16, 19th February 1971 —
Haulage wages bandwagon
Close
How long before the NNC is re-born?
by John Darker • New pay agreements made between area groups of RHA hauliers and the trade unions could lead to the reconstitution of the National Negotiating Committee. The RHA itself is not empowered to make agreements with trade unions. It is an Alice in Wonderland situation that permits RHA area secretaries to take a leading role—or indeed any role at all—in negotiations which set the wages pattern in particular areas, and which promise to jack-up wages to much higher levels than current Road Haulage Wages Council rates.
The new pay agreement negotiated last week between a consortium of RHA hauliers in Manchester and two transport trade unions (TGWU and URTU) adds to the tally of area agreements involving some member firms—but not the Association. The North Western (Eastern) agreement follows earlier deals in the West Midland and Yorkshire areas. Last week CM reported a claim by the TGWU against Cardiff area hauliers for a 20 per cent increase. This claim, if met by the employers, would bring wages up to the scales agreed at Manchester, and which are similar to the West Midland and Yorkshire "unofficial" scales.
It is a logical deduction that pay scales already accepted by unofficial consortia of hauliers in several areas will soon be regarded as a minimum rate by the trade unions nationally. The Road Haulage Wages Council pay scales may not be a refuge for unprosperous operators for much longer.
The RHA's industrial relations officer, Mr Christopher Dixon, is advising the unofficial area negotiators to include a disputes clause in new pay agreements. It should not be too difficult to design fresh negotiating and conciliation machinery when the Industrial Relations Act is on the Statute Book. The NNC—perhaps under another name—will have been recreated by stealth. Against this optimistic view, growing unemployment in some areas of the country may frustrate the early emergence of a national pay and negotiation structure.
The Manchester Agreement is based on two schedules related to driver category yielding 10 per cent or 20 per cent, according to the category drivers are placed in. Schedule 1 applies to operations at up to 30 mph. Schedule 2 applies to operation up to legal permitted speeds subject to running schedules being negotiated on an individual basis between a company and its employees in the light of safety and practicability.
The new rates approved at Manchester are based on a 40-hour week and will be implemented by signatory firms with effect from the first full pay week following March 1 1971.
Schedule 1 (10 per cent increase) Copies of the Manchester pay scales are being circulated to all 1900 members of the RHA in an area stretching from Staffordshire -to Westmorland, when normal postal service is resumed. Mr W. Farnorth, area secretary of the RHA, told CM that the agreement had been concluded to stabilize wages within the area to April 1972. The new schedules give elbow room for higher earnings through greater productivity and it seems likely that they will be re-negotiated in a year's time. Overtime payments are to be pro rata to the rates schedules, each company having the right to negotiate pay rates within the terms of the Agreement based on its own requirements. (Haulage rate increases ranging from 10 to 15 per cent have been recommended in Mr Farnorth's area).
Although it seems possible that some of the 1900 members of the RHA in the North Western (Eastern) section may refuse to accept the new pay scales, even higher claims must be faced. The United Road Transport Union submitted pay scales to the RHA on January 15, 1971, proposing. for their region 13 £25 for 40 hours work with overtime pro rata. Drivers working on a Sunday would get double time with 8 hours deemed time for the compensating day off.
Particularly interesting is the union tariff for acceptance of tachographs—£5 per week for all lorries fitted with the instruments. Other expensive items: £2.50 per week for long-distance duties; £2 minimum for night out, plus 37+p meal money; flat-rate payments for driving licences ranging from 50p per week for class 3 to £1.50p for class 1; holiday pay of £25 plus hgv payment, plus tachograph payment; training facilities to be paid for by employers; education facilities for shop stewards and Outward Bound school for apprentices.
As some indication that URTLT take productivity seriously, shop stewards are being asked to compile a list of their firms' customers and delivery points, paying special attention to dock traffic.