oo,oco Ferguson Tractors Next Year?
19th December 1947
Page 49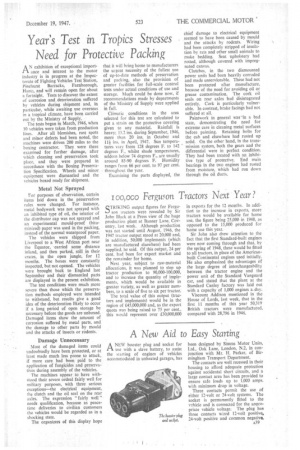 Page 49, 19th December 1947 —
oo,oco Ferguson Tractors Next Year?
Close
STRTKING output figures for Ferguson tractors were revealed by Sir John Black at a Press view of the huge production plant at Banner Lane, Coventry, last week. Although production was not started until August, 1946, the 1947 tractor output stood at 20,000 and, in addition, 50,000 implements (which are manufactured elsewhere) had been supplied, he said. Of this output, 24 per cent. had been for export market and the remainder for home.
Next year, subject to raw-material allocations, it was planned to step up tractor production to 90,000-100,000, and to increase the quantity of implements, which would be available in . greater variety, as well as greater numbers, to a scale of five to six per tractor.
The total value of this output (tractors and implements) would be in the region of £45,000,000 and, as the export quota was being raised to 75 per cent., this would represent over £30,000,000 in exports for the 12 months. In addition to the increase in exports, more tractors would be available for home use, the figure being 25,000 in 1948, as opposed to the 15,000 produced for home use this year.
Sir John also drew attention to the fact that the first Standard-built engines were now coming through and that, by the spring of 1948, these would be fitted to all tractors, in place of the Americanbuilt Continental engines used initially. He also emphasized the advantages of the large degree of interchangeability between the tractor engine and the power unit of the Standard Vanguard car, and stated that the plant at the Standard Canley factory was laid out with a capacity of 1,000 engines a.day.
Viscount Addison mentioned in the House of Lords, last week, that in the first 11 months of this year 50,319 British tractors were manufactured, compared with 28,796 in 1946.