The Grapes Are Sour
19th December 1947
Page 22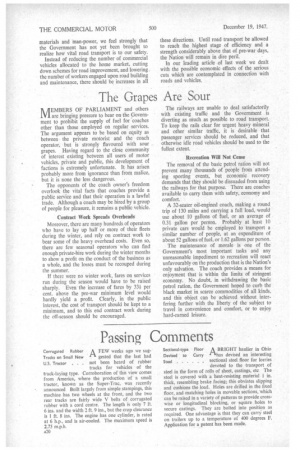 Page 22, 19th December 1947 —
The Grapes Are Sour
Close
MEMBERS OF PARLIAMENT and others are bringing pressure to bear on the Government to prohibit the supply of fuel for coaches other than those employed on regular services. The argument appears to be based on equity as between the private motorist and the coach operator, but is strongly flavoured with sour grapes. Having regard to the close community of interest existing between all users of motor vehicles, private and public, this development of factions is extremely unfortunate. It has arisen probably more from ignorance than from malice, but it is none the less dangerous.
The opponents of the coach owner's freedom overlook the vital facts that coaches provide a public service and that their operation is a lawful trade. Although a coach may be hired by a group of people for pleasure, it remains a public vehicle.
Contract Work Spreads Overheads Moreover, there are many hundreds of operators who have to lay up half or more of their fleets during the winter, and rely on contract work to bear some of the heavy overhead costs. Even so, there are few seasonal operators who can find enough private-hire work during the winter months to show a profit on the conduct of the business as a whole, and the losses must be recouped during the summer.
If there were no winter work, fares on services run during the season would have to be raised sharply. Even the increase of fares by 33 per cent. above the pre-war minimum level would hardly yield a profit. Clearly, in the public interest, the cost of transport should he kept to a minimum, and to this end contract work during the off-season should be encouraged. The railways are unable to deal satisfactorily with existing traffic and the Government is diverting as much as possible to road transport. To keep the rails clear for urgent heavy mineral and other similar traffic, it is desirable that passenger services should be reduced, and that otherwise idle road vehicles should be used to the fullest extent.
Recreation Will Not Cease The removal of the basic petrol ration will not prevent many thousands of people from attending sporting events, but economic recovery demands that they should be dissuaded from using the railways for that purpose. There are coaches available to carry them with safety, economy and comfort.
A 32-seater oil-engined coach, making a round trip of 130 miles and carrying a full load, would use about 10 gallons of fuel, or an average of 0.31 gallon per person. Probably at least 10 private cars would be employed to transport a similar number of people, at an expenditure of about 52 gallons of fuel, or 1.62 gallons per person.
The maintenance of morale is one of the Government's most important tasks and any unreasonable impediment to recreation will react unfavourably on the production that is the Nation's only salvation. The coach provides a means for enjoyment that is within the limits of stringent economy. No doubt, in withdrawing the basic petrol ration, the Government hoped to curb the black market in scarce commodities of all kinds, and this object can be achieved without interfering further with the liberty of the subject to travel in convenience and comfort, or to enjoy hard-earned leisure.